After Samantha, Vijay Devarakonda To Act With This Leading Heroine !!
Written by gokul krishnan Published on Jul 20, 2023 | 12:18 PM IST | 70
Follow Us
Comments: 0
Mrunal Thakur, the talented actress, is eagerly preparing for her upcoming projects, including "Hey Ninna," and is excited about the opportunity to work with the renowned actor Vijay Deverakonda in the highly anticipated film tentatively titled "VD 13." Thakur's foray into the Telugu film industry began with her debut in the movie "Sita Ramam" (2022), where she shared the screen with the charismatic Dulquer Salmaan.
Reflecting on her experiences working with actors from the South, Thakur expressed her heartfelt appreciation for the warm welcome and love she received from the people in the South film industry right from the start of her journey. She expressed gratitude for the chance to collaborate with some of the finest actors in the country, a privilege that she cherishes deeply. Thakur spoke fondly of her co-stars, Dulquer, Nani, and now Vijay, emphasizing their diverse acting styles and massive fan bases, making each day on set a unique and enriching experience. She hopes to receive the same love and support for her upcoming ventures, including "Hi Naana" and the much-anticipated "#VD13."
also read: "Find Someone Who Loves Like Him" – Samantha Ruth Prabhu !!
Looking forward to her collaboration with Vijay Deverakonda in "VD 13," Thakur expressed her eagerness to learn from him and grow together as actors. The film's preparation has already commenced, and the shooting is scheduled to begin soon. The prospect of sharing the screen with Vijay fills her with excitement, as she believes it will be a valuable learning experience.
Vijay Deverakonda, known for his magnetic on-screen presence, has a unique ability to captivate the audience with his performances. Thakur praised his remarkable portrayal of characters such as Dr. Arjun Reddy Deshmukh in "Arjun Reddy" (2017) and Vijay Anthony in "Mahanati" (2018), both of which have left an indelible mark on the audience's hearts. With each passing film, Vijay has proven his versatility and talent, making him one of the most sought-after actors in the industry.
also read: Devarakonda's Recent Video With Samantha Triggered Netizens!!
The excitement surrounding "VD 13" is palpable, and the fans eagerly await the reunion of Vijay Deverakonda and director Parasuram after their highly successful collaboration in "Geetha Govindam" (2018). The combination of their creative talents has raised expectations, and audiences anticipate witnessing a spectacular cinematic experience.
Mrunal Thakur's journey in the Telugu film industry has been nothing short of inspiring. Beyond her acting prowess, she is admired for her humility and down-to-earth nature. Despite her rising popularity, she remains committed to her craft and dedicates herself to delivering authentic performances that resonate with audiences.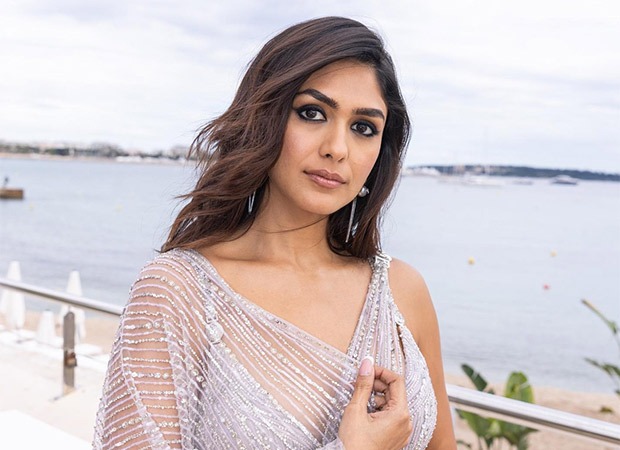 As she delves deeper into the world of Telugu cinema, Thakur aspires to collaborate with more accomplished actors and directors, challenging herself with diverse roles and expanding her artistic horizons. Her experiences with co-stars in the South film industry have reinforced her belief in the power of collaboration, and she continues to be driven by a desire to explore new territories in her acting journey.
also read: Samantha Is In The Receiving End For Endorsing Sadhguru!
"VD 13" is expected to be a compelling film that showcases the chemistry between Mrunal Thakur and Vijay Deverakonda. The audience eagerly awaits further details about the film's storyline and the magic that this talented duo will create on the silver screen.
Mrunal Thakur's journey in the Telugu film industry has been marked by dedication, passion, and a thirst for growth. Her collaboration with Vijay Deverakonda in "VD 13" adds another exciting chapter to her career, filled with anticipation and high hopes. Thakur's journey as an actor has only just begun, and her determination to excel in her craft promises a bright and successful future in the industry.
As the team of "VD 13" gears up to start shooting, the buzz around the project continues to build. The film's potential to become a cinematic gem is evident from the talented cast and crew involved, and the anticipation among the audience is at an all-time high. With Thakur's dedication and Vijay Deverakonda's magnetic presence, "VD 13" has all the ingredients to become a memorable and impactful film in the South Indian film industry.