Madhumita brought the topic of male domination up again in the house and Kavin lost his cool this time. In fact, his entire gang comprising Losliya, Tharshan, Sandy and Mugen stood by him. They took a strong stand against Madhumita and won over the internet. Fans called them 'Fantastic 5' on Twitter and showing their support since the recent episode.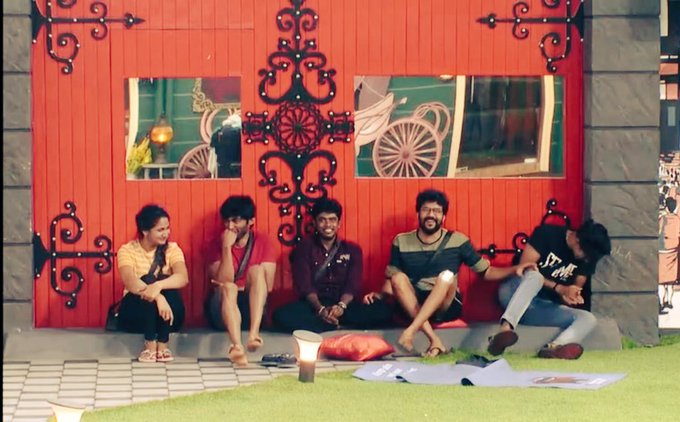 [wp_ad_camp_1]
Now to our shock, Saturday episode started with an announcement of Madhumitha getting evicted because of the decision she made. During an argument of Madhumitha with the housemates after a task, she hurted herself to prove a point she stated. This made Bigg Boss to terminate immediately.
Even during interacting with Kamal Haasan, Madhumitha stood with her decision and argued with the host himself. However, Kamal Haasan, sent her by wishing her all the success in the future.
While the audience are wondering if there will be another eviction for this week as already Madhumitha was evicted, the voted based eviction also took place in the weekend episode. Abhirami Venkatachalam, model and budding actress who is tasting the success of Nerkonda Parvai, got evicted from the house according to the reports of media.
[wp_ad_camp_1]
Check out the video here :
However, there is still rumours doing rounds that Abhirami might be sent to secret room. Abhirami Venkatachalam who initially said that she is in love with Kavin on the first episode, proposed it to him directly. Kavin rejected her proposal in a subtle way and asked her to wait for at least 50 days to know about him completely.
However both of them moved on as Kavin got busy in spending with Sakshi and Losliya. After few days, she started having a healthy friendship with Mugen. She played a "baby game" with him which caused controversy as Madhumitha opposed it by saying that it is against Tamil culture.
[wp_ad_camp_1]
Abhirami, out of frustration, made a confession to the housemates, saying that her relationship with Mugen is merely a friendship. After some days, both of them are evidently maintained a relationship beyond friendship but it exploded once Vanitha made her re-entry.
As soon as the news of Abhirami's eviction surfaced, reactions pouring in Internet. Check out some of the reactions here :
No Abhirami, No biggboss 🤷‍♀
TRP will b the lowest from tomorrow onwards… B strong #AbhiramiVenkatachalam 😘
U have a very good future outside #BiggBossTamil3 pic.twitter.com/IceaEqh5bd

— Dilu💙 (@mioviyaa) August 17, 2019
Feeling relieved! That mad psycho is out.

— CONSERVATIVE (@veenavaana) August 17, 2019
It's Official Abhirami has been evicted .A good 55 days show from her.From being no1 to one of the promising Supporting actress she has travelled a long way .With #NerkondaPaaravai her acting career has began with a BANG ! Wishing her a successful And Peaceful life#BiggBossTamil pic.twitter.com/kRDz85SJQF

— DemoGorgoN (@Sham_Rahmaniac) August 17, 2019
This week both madhu and Abhirami are evicted 😕 very good vjtv saving your kids smh 🤦‍♀️ #biggbosstamil3

— Aarya (@Aarya3215) August 17, 2019
Can't wait for this Abhirami to be evicted today. So that I don't have to read her fan's nonsense tweets daily defending her craziness. #BiggBossTamil3

— мєєяα ™ (@qmeera_) August 17, 2019
What do you think on her eviction ?? Comment your views below !!