The most anticipated episode of Losliya meeting her father after 10 long years streamed finally. The promo of the yesterday's episode itself created ruckus in social media as netizens reacted in two different ways. One set of viewers loved the way her father behaved to Losliya and the other set of viewers saw it as a regressive way to restrict his daughter not to love someone.
[wp_ad_camp_1]
He entered with Yuvan Shankar Raja's "Anandha Yazhai" song which made Losliya to scream her heart out and cry. She ran and hugged him but the father looked very much dejected as he was affected by the comments of public. "I didn't send you here for money. I will even beg for a living. They (public) are saying that I sent you here for money." he said while stalking to Losliya who was seen crying.
He even talked to Kavin and said that he is not angry with him at all and asked him to play game as a game. "Being a father of my daughter, I will maintain my standard. I felt really bad when people around me talking bad about my daughter. If they are talking like that to infront of me. How extreme they will go in my absence" he worried about the public. "Even people who know me very well asked me if I am going to attend my daughter's marriage while I was coming here. Imagine how I would have felt." he said.
[wp_ad_camp_1]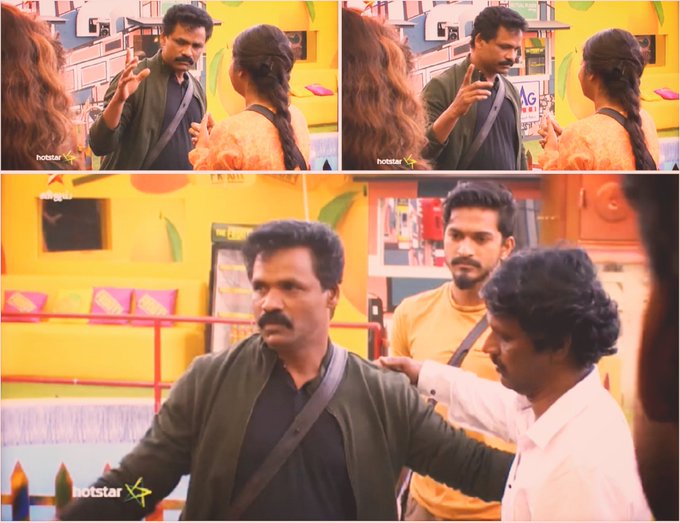 However, after listening to all this, a short video of Losliya asking her mother to talk with Kavin doing rounds in social media. While entering the house along with her mother after listening to her father, Losliya who saw Kavin asked her mother to talk with him which was refused by the mother in a subtle way.
Watch the video here :
லாஸ்லியா அவங்க அம்மா கிட்ட கேட்ட

கவின் கூட பேசுறியா ?

Ithu Ellam Thiruthaathu#BIggBossTamil3 #BIggBossTamil #GetOutKavin pic.twitter.com/EzqF8rN4lo

— VR (@VR_Chn) September 11, 2019
This gesture from Losliya receiving major hatred from Netizens as they believe she has not understood the feelings of her father at all. Check out some of their reactions here :
Her mom reaction epic 😂😂

— Scriptwriter Kavin (@bigbosstamil3o) September 11, 2019
Avalo solliyum kavin kita pesuanu solra paaru kodumada.. already avaga ellam kavin mela tensionla irupaga

— Arun Yogeshwar (@ArunYogeshwar) September 12, 2019
#BiggBossTamil3 los mom or her sisters don't even want to talk to k kavin 😂 I'm not surprised bcoz not just her mom any parents in that case don't like person like kavin,..

— TamilCinemaFan (@TamilCnaFan) September 12, 2019
She was siting in between and looking at him for a while when sandy was talking to@her dad .. 🤦🏼‍♀️

— kanaga priya (@sandra_disny) September 12, 2019
intha looseliya thirunthathu .
ekkedu kettu pogatum…intha love again BB la kaamika iruntha seri
Veliye poye enna vena seinji tholaikatum idhunga

— kavimini (@kavimini2004) September 12, 2019
[wp_ad_camp_1]
However other set of fans who loves the relationship between Kavin and Losliya defended Losliya by saying that it is called as "True Love"
Losliya impresses at this moment. Just 5mins of tears can't change her love for Kavin. Haters kadhariiiii saavungada

— Sugarcoated_Subash (@SugarcoatedSub1) September 11, 2019
சின்ன திருத்தம் bro எங்க ஈழம் ல தன் பொன் ட lover ன்னு ஒரு பையன் ன தெரிஞ்சா பிறகு அவன் கிட்ட முகம் குடுத்து பேச மாட்டார்கள் அதற்கு காரணம் கோபம் என்று மட்டும் சொல்லமுடியாது மரியாதையும் கூட..❤️🙏

— Ajee Nemi (ஈழம்,கல்முனை) (@ajee_nemi) September 11, 2019
Ithu poothu true love never fail

— Raja govind (@Rajagovind11) September 11, 2019
Comment your views !!