After Ilayaraja 75, A.R Rahman Himself Shared A Meme Which Is Heart Melting !!
Written by Dhiwaharan Published on Feb 04, 2019 | 23:51 PM IST | 173
Follow Us
Comments: 0
A.R.Rahman, who attended the event day before yesterday, said that "Ilayaraja is my headmaster. I have learnt a lot from him. When I look at him, I'm amazed that a person can be like this too. We both have a bad habit, and that is music. Even when I'm awarded, Ilayaraja's words of appreciation make me happy, because maestro's don't appreciate that easily, and when he appreciates, it's because there's real talent."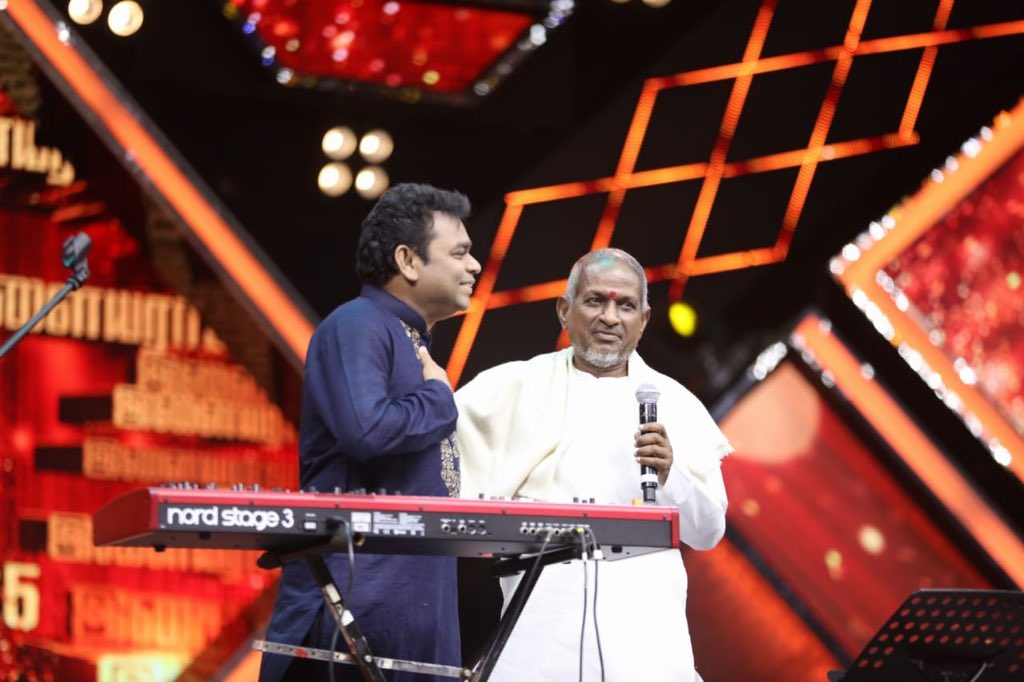 [wp_ad_camp_1]
Music maestro Ilayaraja has scored the music for more than 1,000 films and 5,000 songs. He has also rendered 500 numbers and won the national award five times. To honour his achievements, Tamil Film Producers Council is felicitating 'Isai Gnani' with a two-day function at a gala event titled Ilayaraja 75. Top actors and technicians from all south Indian languages including Tamil, Telugu, Kannada and Malayalam, besides Hindi who have worked with the maestro attended the event and shared their experiences with the music maestro.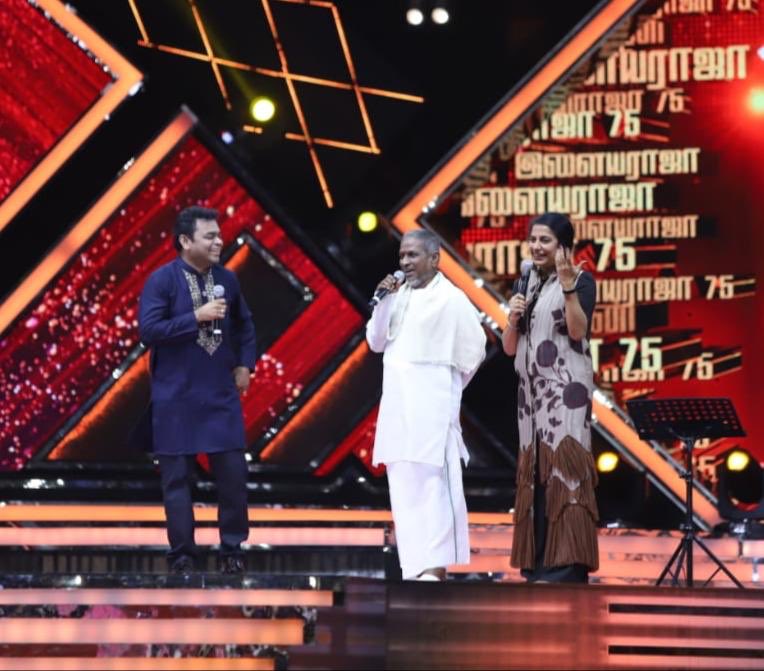 After attending the event and the moment that A.R Rahman shared with his master on stage, the tow Oscar holder came up with a meme which is winning thousands of hearts in social media. More of a meme it looks like a collage of two photos in which one of the picture contains A.R Rahman learns from Ilayaraja years ago and the other one from the event Ilayaja 75.
[wp_ad_camp_1]
A.R Rahman added a caption as "33 years later with the Maestro, What a great feeling ! #EllamPugazhumIraivanukke"
Check out the post here :
33 years later with the Maestro, What a great feeling ! #EllamPugazhumIraivanukke pic.twitter.com/CUBATJqsnh

— A.R.Rahman (@arrahman) February 3, 2019
The theme music of "Punnagai Mannan" which is played by A.R Rahman infront of Ilayaraja went viral on Internet before its official streaming on Television. Those who witnessed the event in person, captured the special moment and shared it.
As soon as the video got released the netizens couldn't resist themselves from sharing it with lovely thoughts and emotions. Check out some of them here :
Am in… Kaanbathu kanavaa
illa nejamaa mode 😀
Rahman sir is playing one of d finest themes in d world.. Punnagai mannan.#ARR 🙏🙏 #Peace pic.twitter.com/XFFFL3w3Yw

— ʝɛииι fer вℓɛssʏ (@JenniferBlessy) February 2, 2019
@arrahman & @TheMaestroRaja sharing the same stage historical moments in Indian Music #IlayaRaja75 #ARRahman moment to cherish forever @SriniMaama16 how u feel? pic.twitter.com/8wSpoGboKh

— Mohamed Faisal (@Miracleboyz7) February 2, 2019
Awwwwww…..!

Picture to framed ❤️🙏#IlayaRaja75 pic.twitter.com/RCSrMBg1CH

— KESAVAN (@I_m_k7) February 2, 2019
Check out the heart winning reactions for A.R's post here :
— Mohi (@mohideenjmm) February 3, 2019
வெறுப்பும் பொறாமயும் நிறைந்த இந்த உலகத்தில், இவ்வளவு அன்பும் நல்ல எண்ணமும் உள்ள ஒரே மனிதன் என் இசைபுயல் மட்டுமே 😍😍😎 pic.twitter.com/0xCBfuGrfo

— Samsathyaseelan (@samsathyaseelan) February 3, 2019
Both are legends 🥰🙏🙏🙏 pic.twitter.com/L5aBRCFXnJ

— Meena (@ActressMeena_FP) February 3, 2019
This humility has taken you so far reach this height, you deserve this and more.

— श्रीMurali 🇮🇳 (@mayamadhava) February 3, 2019
நேற்று முதல் உங்களுக்கும் ரசிகன்…

— 4 Tamil Cinema (@4TamilCinema) February 3, 2019
[wp_ad_camp_1]
Excellent gesture.. Man with nil ego and acting as a role model for how one should be after attaining success in life..

— Krishna (@Krishna22155641) February 3, 2019
Isn't is t an excellent gesture form the world famous musician ?? Comment your views on this post of A.R Rahman !!