The internet went into a frenzy moments after the video of a woman accused of making misogynist remarks was uploaded. The woman accused has now apologised for the comments she made. In the video, a group of women were asking the middle-aged woman to apologise because she had allegedly asked seven men to rape them.
This is aunty.
Aunty wants women in short dresses to be raped by
men.
Aunty is the prime example of whats wrong with society.
Dont be like aunty#auntyjiapologise pic.twitter.com/zdj093CFGl

— Aye_Sandeep_Bruh (@TBHBuddyTweets) May 1, 2019
Moments after the video was uploaded, people all across the country started sharing it. The accused received immense backlash for the statements made by her. The video uploaded initially was taken down by Instagram.
[wp_ad_camp_1]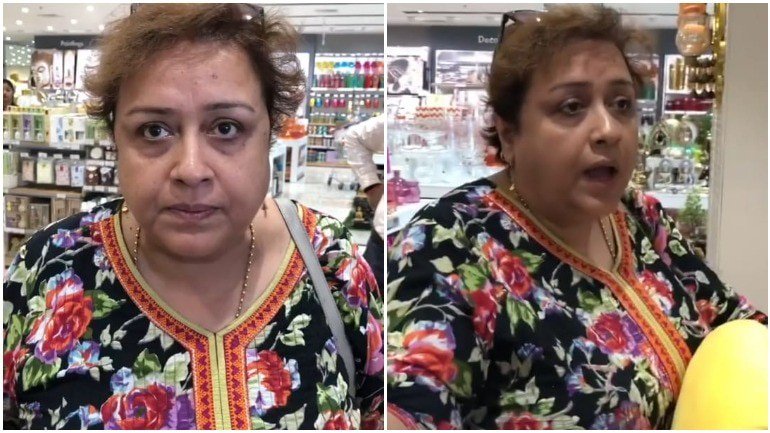 Check out the posts under the Hashtag #AuntyjiApologize :
Auntyji's thoughts are shorter than the length of this dress. I can't believe that such a mentality exists in 2019. Horrible. #AuntyjiApologise pic.twitter.com/rvYvQJnXLa

— Tejas Tawde (@Tejas2871) May 1, 2019
This is Auntyji.
Auntyji thinks women get raped cause they wear short clothes and invite men to fuck them!
Auntyji asked men in a restaurant to rape girls who wear short clothes.
Auntyji is narrow minded.
Auntyji is fucked up.
Don't be like Aunty ji.#auntyjiapologise pic.twitter.com/PNAg5MyeJS

— Addya ♡ Aahana (@blair_000) May 1, 2019
Please die, aunty?
And btw, nice dress. #auntyjiapologise pic.twitter.com/Gf7oM7N5Ah

— Lavanya Jain (@lavanyajain30) May 1, 2019
Ma'am you need to apologize or the internet is coming after you in no time . #Auntyjiapologise pic.twitter.com/Qwo3BWahlz

— Kirti Dohre (@kirtidohre) May 1, 2019
This defines her culture, her menatlity. People like her encourge criminals. Disgusting thought. #auntyjiapologise

— Dhaval (@imdhavalfaria) May 1, 2019
She is a low minded woman and its 2019 we are still taking on this😶🙄😥 and she says girls encourage boys by wearing short dress & what is she wearing in this picture yes she is only the one guys😶how low minded how sick mentality 🙄#auntyjiapologise #sunkissedsitzu pic.twitter.com/G6qlRocWRg

— Maheshwari swetta💕 (@_Maheshwari_) April 30, 2019
She has apologised on social media after receiving a spate of hate messages. In a Facebook post, the middle-aged lady featured in the video issues an unconditional apology.
The apologize "I extend an unconditional apology to all the girls. In hind sight, I realise, I was harsh and incorrect in my statement. If any, I should have offered my opinion in private. I was concerned however, I realise that I should have been protective and progressive in my outlook and not conservative and regressive.
As a wife, sister and a mother and more importantly as a woman, I value ever [sic] woman's dignity. Once again, I profusely apologise to all women who's sentiments have been hurt."
[wp_ad_camp_1]
According to the women, they were sitting at an eatery called Nukkadwala when the accused got up and allegedly asked the seven men present their to rape girls like them. Equating their character with the length of their dresses, the accused left the eatery and went to a mall.
The woman and her friends followed the accused and asked her to apologise for the statement she made. The accused stayed resolute even as the women asked her to repeat the statement on camera. The woman shot back by saying "go to hell".
[wp_ad_camp_1]
In the end, the accused looked into the camera and said "these ladies want to wear short to short dress to encourage all". The accused further asked the parents of the women filming the video to teach them "tameez" and asked them to support her.