After 8 Long Years, Thyagaraja Kumararaja's Released His Film's Trailer !! Twitter Exploded !!
By Dhiwaharan
Super Deluxe, Thiagarajan Kumararaja's upcoming Tamil film starring Vijay Sethupathi will be released on March 29, the actor announced on Twitter.
[wp_ad_camp_1]
The quirky Chennai-set drama, which weaves together inter-connected stories, also stars Fahadh Faasil, Samantha Akkineni, Ramya Krishnan, Bagavathi Perumal and Gayathrie. The film has been written by Kumararaja, Nalan Kumarasamy (Soodhu Kavvum) and Mysskin (Onaayum Aattukkuttiyum). The anthology film stars Sethupathi as Shilpa, a transwoman.
The trailer of the film released a while ago and fans of Vijay Sethupathi and Thyagaraja Kumararaja going crazy about it :
The trailer starts with the narration in Vijay Sethupathi's voice and ends with it. Throughout the trailer every character of it appears in a same costume which indicates that it might be a story that happens within a day. Vijay Sethupathi narrating a story of a man who trapped between a snake and a tiger.
[wp_ad_camp_1]
As soon as the trailer released everyone whent crazy on Internet including some celebrities. Check out some of their reactions here :
Petta Sanath :
Masterpiece from the masters 😍🥳#SuperDeluxeTrailer #ThiyagarajanKumaraja https://t.co/1i0OYcF8Hh

— Sananth (@actorsananth) February 22, 2019
Rana Daggubathi :
This is kickass!! https://t.co/r8V1jBXGN4

— Rana Daggubati (@RanaDaggubati) February 22, 2019
Aishwarya Rajesh :
Wow wow wow watta trailer Sema sema @VijaySethuOffl @SGayathrie @Samanthaprabhu2 https://t.co/y2fvOMGu59

— aishwarya rajessh (@aishu_dil) February 22, 2019
Meyatha Maan Rathnakumar :
தேன் 😍❤️🔥🔥🔥🔥 #SuperDeluxe https://t.co/FWE0XAY0cY

— Rathna kumar (@MrRathna) February 22, 2019
Nithin Sathya :
Pahhhhh 👏🏻👏🏻👏🏻👏🏻👏🏻👏🏻👏🏻 semaaaaaa 👏🏻👏🏻👏🏻👏🏻👌🏻👌🏻👌🏻 mind blowing is not the word. https://t.co/brka10JXlu

— Nitinsathyaa (@Nitinsathyaa) February 22, 2019
Vikranth :
Wow.. mind blowing.. paahhh https://t.co/rTjCOFPEns

— Vikranth Santhosh (@vikranth_offl) February 22, 2019
Rupa Manjari :
Here it is💃https://t.co/xVDrQSj0gH out of the box trailer only @itisthatis can make!Unorthodox, wacky&amusingly entertaining👏 #SuperDeluxe #SuperDeluxeTrailer watta woww👌its gonna go viral @VijaySethuOffl @Samanthaprabhu2 @meramyakrishnan #FahadhFaasil @SGayathrie @sash041075 https://t.co/kpTWruc9Cc

— Rupa Manjari (@TheRupaManjari) February 22, 2019
Ranjith jeyakodi :
பாம்பாவது பள்ளமாவது புலியாவது புண்டையாவது 🔥🔥🔥

தலைவன் தியாகராஜா குமாரராஜா 😍 Superoooo Super Deluxe #SuperDeluxeTrailerhttps://t.co/YxHZSz1dnR

— 𝐑𝐚𝐧𝐣𝐢𝐭 𝐉𝐞𝐲𝐚𝐤𝐨𝐝𝐢 (@jeranjit) February 22, 2019
Arunraja kamaraja :
No wonder why you had the urge to leak that trailer sir , this is freakingly awesome on screen 🙂 💐💐

— Arunraja Kamaraj (@Arunrajakamaraj) February 22, 2019
[wp_ad_camp_1]
Editor Suresh :
உசுரு போனா, மசுரு போச்சு! 🔥💥
A #ThiagarajanKumararaja Film
Here's Badass #SuperDeluxeTrailer@itisthatis @VijaySethuOffl @sash041075 @Samanthaprabhu2https://t.co/Lp4xOB89gn

— T.S.Suresh (@editorsuresh) February 22, 2019
Manjima Mohan :
🙏🙏🙏🙏🙏🙏🙏 https://t.co/VLI1ViRSMr

— Manjima Mohan (@mohan_manjima) February 22, 2019
From the trailer, it looks like Samantha plays Fahadh's romantic interest. Ramya Krishnan plays a porn actress in the film, accoding to director Thiagarajan.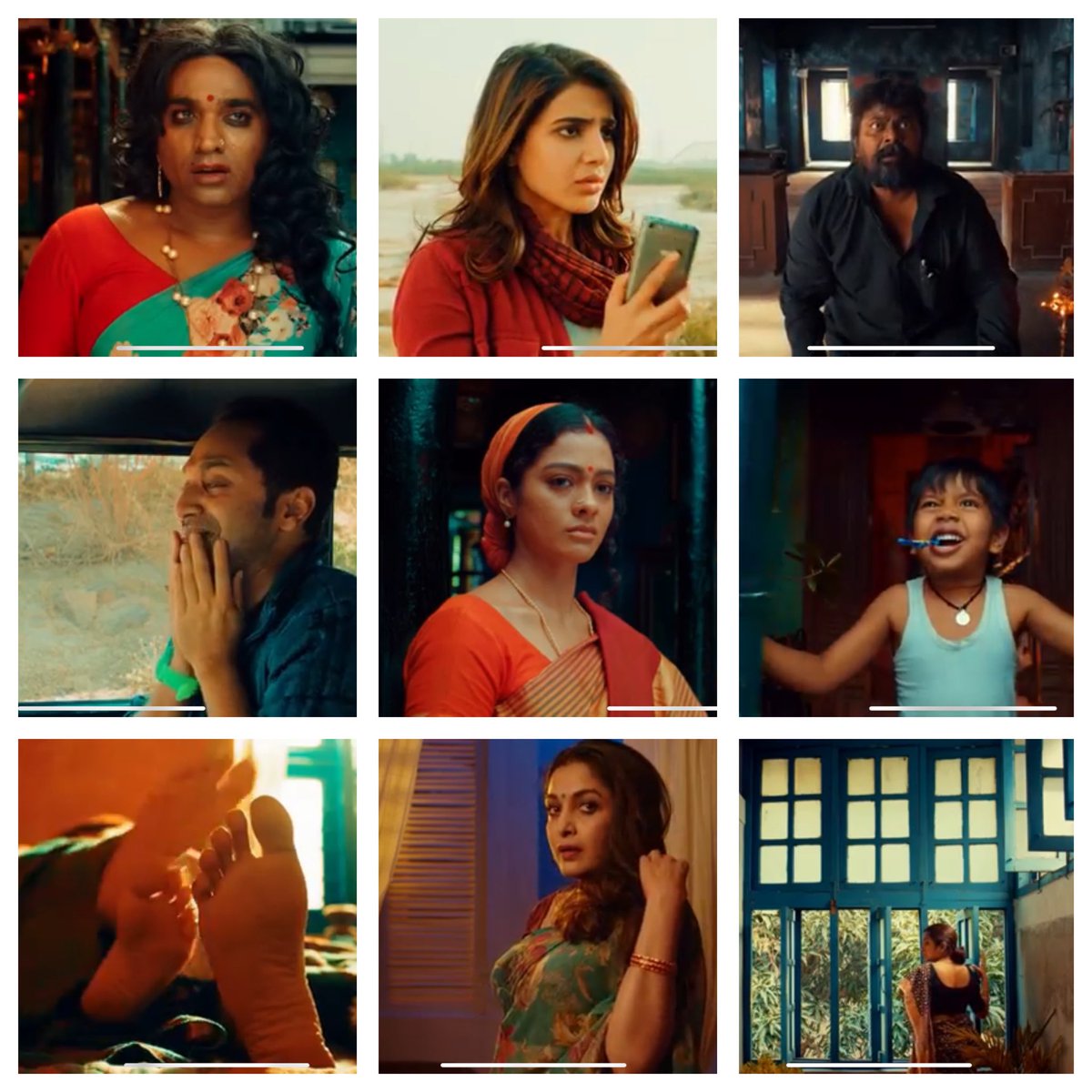 In an earlier interview, Fahadh was upbeat about Thiagarajan Kumaraja. He said, "Working with (Kumararaja) was a mindblowing experience. It was the best way to craft myself. I wasn't really sure about the kind of films I wanted to be a part of. That's when I saw Aaranya Kaandam. I was stunned; it was such a stylish film. It made me stay (in films). It was crucial in moulding me as an actor."
Comment your views on the trailer !!