Actor Vijay's previous movie Mersal turned controversial following BJP leaders in Tamil Nadu objected to scenes criticising dialogues against the Goods and Services Tax system.
Now the next film of Vijay Sarkar released on Tuesday, is a movie about a high-flying NRI entrepreneur hunkering down to clean up the political system in Tamil Nadu after he finds out at the polling booth in an election that his vote has already been cast.
As expected Political opposition has emerged to A.R. Murugadoss's movie, starring actor Vijay, over scenes depicting angst against the freebie culture in Tamil Nadu and certain "undesirable references"–as claimed by AIADMK leaders and sympathisers–to former Chief Minister J Jayalalithaa.
Senior AIADMK ministers demanded that the contentious scenes be deleted, and threatened to initiate legal action if the latter failed to comply.
Fisheries minister D Jayakumar wanted to know why certain references deemed to be that to the late Jayalalithaa had found their way into the script.
However, rebel AIADMK leader TTV Dhinakaran claimed Jayalalithaa was never addressed by the name mentioned in the film but charged commercial intent behind showing the AIADMK's 'freebies' in bad light.
Law minister CV Shanmugham said certain scenes amounted to inciting violence and warned of action.
"The scenes relating to burning of items disbursed under government welfare schemes amount to inciting violence.
Whether it is the producer (Sun Pictures) or actor (Vijay), or theatres– they will have to face action," he told reporters.
DMK leader Pazha.Karuppiah, who has played the antagonist's role in the film, wanted to know how scenes of a movie could be deleted after the Censor Board had cleared it.
Reports suggested that certain scenes show grinder, mixers and fans being burnt, seen as an obvious reference to the late Jayalalithaa's flagship schemes of providing these items free of cost, in line with an electoral promise in 2011.
AIADMK workers staged a protest outside a theatre in Madurai demanding that certain scenes be removed. A show was also cancelled. Workers said they would not allow the film to be screened till "derogatory" scenes and dialogues were removed, the police said.
At some movie halls in Coimbatore and Chennai, banners of the film and that of Vijay were damaged allegedly by AIADMK supporters. Some AIADMK workers staged a sit-in at a theatre in Coimbatore seeking a ban on the film. In Chennai's prominent movie hall Kasi theater's cut out of Vijay also damaged by ADMK supporters it is alleged.
According to a video released by Behindwoods , Fans of Vijay seems to be individually attacked by ADMK supporters and police officers. In the video a young fan says "They could not see a movie as movie and doing this kind of cheap activities. If people starts questioning like this, they will be treated in the same way."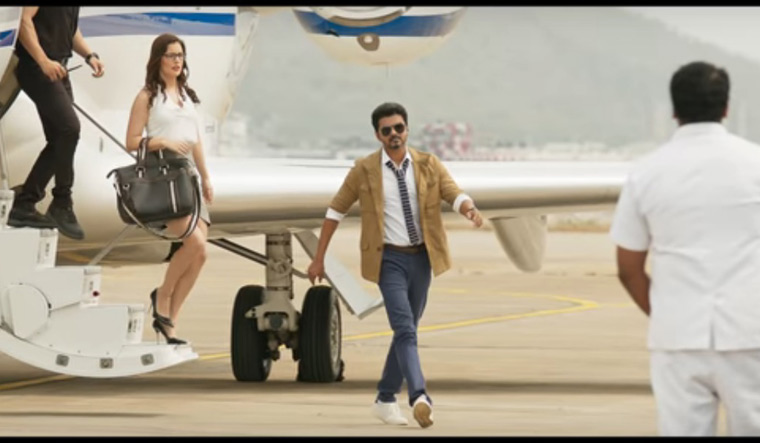 "If they leave him (Vijay) alone , he will be quiet as usual. By doing these kind of agitations, they deliberately nearing their disaster. The effect of their atrocity against Vijay will be something they never expected" he warned.
"You guys can only do this kind of cheap activities, touching him will be a nightmare for you when we are there for our brother. If you really have guts, you would have did this in the first day itself. I don't care if my future spoils because of this, I will stand with my anna and fight for him" said the fan.
Source : Behindwoods 
They also questioned why they are demanding to remove scenes from a film which was censored already by central government. Another fan also alleged that a police officer slapped him while he questioned why ADMK supporters are behaving this rude.