Adipurush Became A Subject Of Severe Online Troll !!
Written by Dhiwaharan Published on Oct 03, 2022 | 17:25 PM IST | 332
Follow Us
Comments: 0
The most awaited "Adipurush" of Prabhas and Kriti Sanon became a subject of severe online trolls after fans found the teaser "unattractive" and "cartoonish" due to the poor VFX. "Adi Purush" directed by Om raut, has created a buzz around the fans due to the publicity and star studded cast.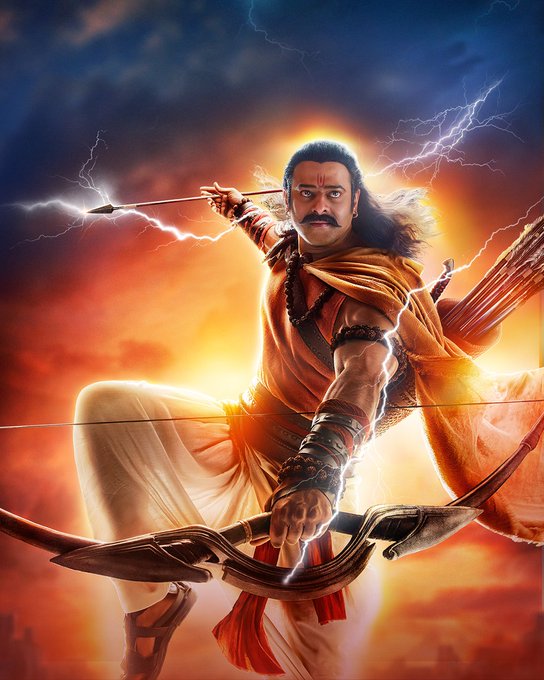 The film has reportedly made on a budget over Rs 400 crores, most of which have ben spent on the VFX. But the output which has been delivered to the audience was far from what the audience were expecting. Fans have been venting out their emotions by trolling the makers of the film by uploading memes and trolls in the social media platforms.
Watch the teaser below :
"Raavanan with military cutting, Spike & shape beard orey goltissss 😭😭😭" a fan trolled whereas another one said "NO WAY THEY MADE AN ANIMATED MOVIE OF 500cr 😭😭😭"
Check out some of the reactions below :
Even this 30-year-old animated #Ramayan looks more fresh than the animated #Adipurush lmao pic.twitter.com/ZNKWkPVlii

— ٖ (@mannkahe) October 2, 2022
Kochadaiyaan getting positive reviews after #Adipurush teaser release !! pic.twitter.com/mX8mBudg9g

— Kandhaswamy (@Bharathiyi) October 2, 2022
#Adipurush teaser uses borrowed VFX of typical video games. No character looks Indian. Hanuman et al wear leather like mediaeval Europeans. Sita dresses weirdly in purple giving artificial pose.

Not the way Ramayan exists in minds of Hindus since ages or in scriptures. Avoid. pic.twitter.com/f7HxfFbCy2

— Gems of Bollywood बॉलीवुड के रत्न (@GemsOfBollywood) October 2, 2022
Raavanan with military cutting,Spike & shape beard orey goltissss 😭😭😭😭 #AdipurushTeaser pic.twitter.com/fwztfPqxZ7

— 🌝 (@KuskithalaV6) October 2, 2022
Nobody victimed to Pan Indian cinema the way Prabhas does! What a waste of a glorious rise!

— Dev kinda Ved (@suhansidh) October 2, 2022
VFX – Emi raa ithi rei ! Chandalanga undhi raa baabei !!

— Prashanth Rangaswamy (@itisprashanth) October 2, 2022
Oru teaser ha release Panni relax panni vittutaan 😂 pic.twitter.com/kXXyHw0l2x

— VS (@VS_offll) October 2, 2022
😂😂😂 pic.twitter.com/CwrlmX3k07

— 🄰🅃🄲 ™ (@ATC_SPACES) October 3, 2022
Adeiii 😂😭😂😭 pic.twitter.com/HPO0fcfHGa

— 𝚅𝚒𝚍𝚑𝚣𝚉 🌜| this user is hyped for Prince ⚡ (@Vidhu_SK_) October 2, 2022
🤣🤣🤣🤣 pic.twitter.com/oaVskwcdvN

— Zaddy (@Zaddystan08) October 2, 2022
Watched Adipurush teaser and checked the date. I thought its 1st April. But it is no prank. 😭

— Abhi and Niyu (@abhiandniyu) October 3, 2022
700 cr Temple Run🤣🤣😭#Adipurush #AdipurushTeaser #AdipurushMegaTeaserLaunch #Disappointed #Animated pic.twitter.com/fH4B6k55iv

— Prem Sharma (@imprem858) October 2, 2022
Trust me! @iamsrk's #RA1 was way ahead in terms of VFX than the pogo teaser of #Adipurush! That too in 2011. 🔥🙏🏾#Pathaan is the only Bollywood saviour now, let's hope for the best! pic.twitter.com/027QnYMZAU

— Rahul Kumar Pandey (@raaahulpandey) October 3, 2022
Excellent VFX in #Adipurush teaser. The VFX artist must be the topper student at White Hat Junior. pic.twitter.com/5yohO93iqz

— Sagar (@sagarcasm) October 2, 2022
Buzz is that Cartoon Network bought #AdiPurush satellite rights for a Record Price 💥💥 pic.twitter.com/pwOhEh6DIz

— Om Raut (@efghijkl___) October 2, 2022
#Prabhas in & as ##Adipurush !#AdipurushTeaserDay pic.twitter.com/XPx12mtuEA

— Tamil Censor (@TamilCensor) October 2, 2022
Okay I am literally confused!
Is #Adipurush an animation film?
Lol Hands down the funniest teaser I have seen in a long time !!
WTF was that VFX bro 😂😂😂🤣
WHAT in THE HELL is this ?#AdipurushMegaTeaserReveal
I am no hater but 😭😭 pic.twitter.com/OITB9YTDGp

— …… (@Sillyfellow22) October 2, 2022
Bollywood and Tollywood disowning #Adipurush after the teaser release #Prabhas #AdipurushTeaser #Bollywood #Tollywood pic.twitter.com/OjuVIpMlsf

— R U M I (@iMalfoyRKF) October 2, 2022
Exclusive: #Adipurush satellite rights bagged by POGO channel pic.twitter.com/AAps23ORhe

— L E E (@trolee_) October 2, 2022
Official : #Adipurush post theatrical streaming rights bagged by chutti tv 👍🏼 #AdipurushTeaser pic.twitter.com/MoJUVN9Zkg

— Madurai Cinemas (@MaduraiCinemas) October 2, 2022