"Adikkattum Ivann" – Dinesh Karthik Interacted With Virat From Behind The Stumps!! Gavaskar Got Confused
Written by Dhiwaharan Published on Oct 17, 2022 | 13:22 PM IST | 161
Follow Us
Comments: 0
India won the warm up match against Australia by 6 runs. With the help of the half centuries of KL Rahul and Suryakumar Yadav, India posted 186 runs on the board. Mohammad Shami's brilliant last over impressed the fans as he picked three wickets in the final Four balls of the last over. However, what caught the attention of fans from Tamilnadu the most is, the way Dinesh Karthik interacted in Tamil language with the players of team India.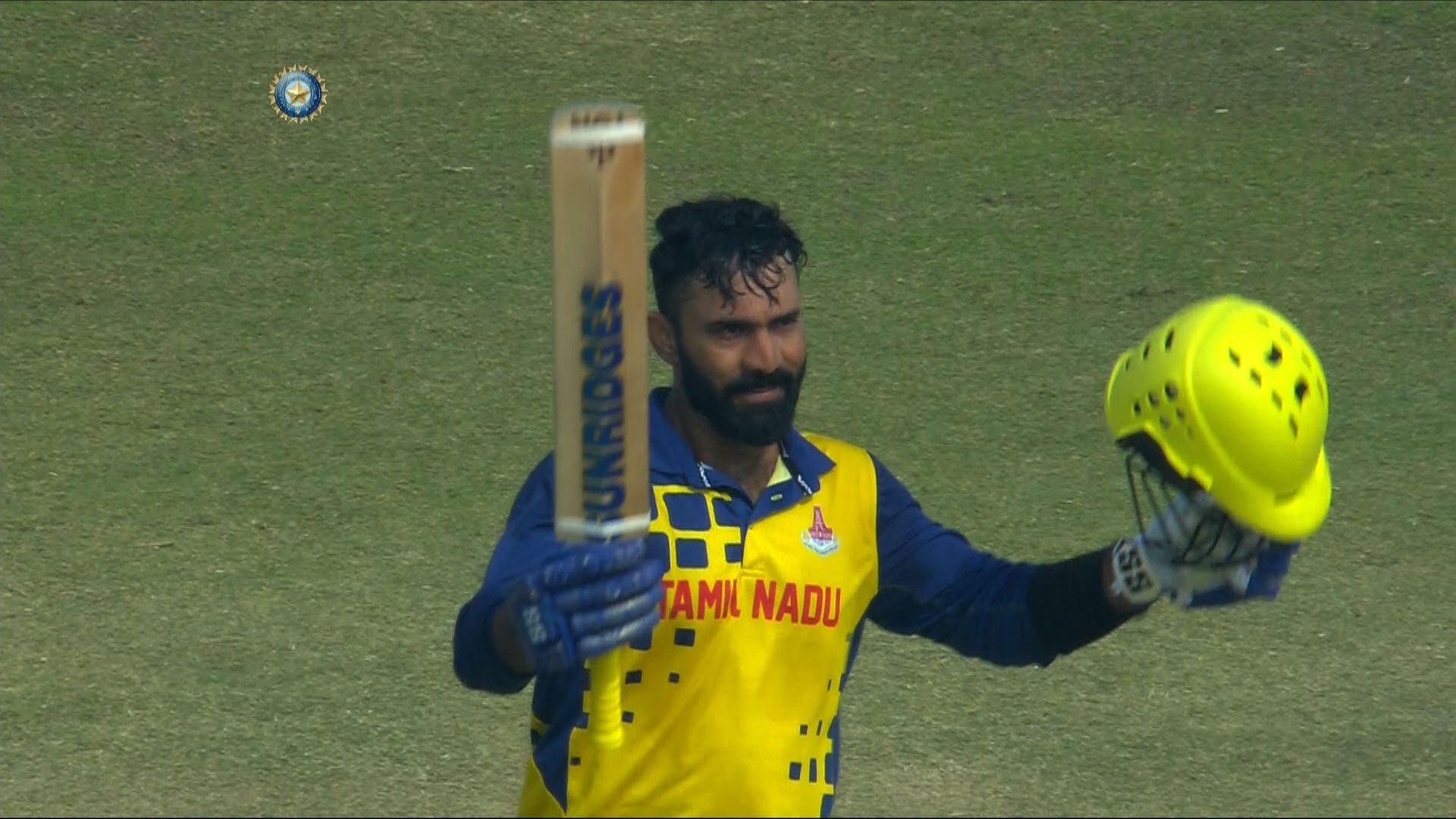 In earlier occasions, Dinesh Karthik grabbed the attention of Tamil fans by communicating with Varun Chakravarthi in Tamil while representing Kolkata Knight Riders. Now, he who got a place in the squad of India for the T20 world cup, started showing his antics to distract the opponent batsmen.
During one of the overs of Ravichandran Ashwin, Dinesh Karthik suggested the West Mambalam based cricketer to let the batsman hit as he defended the first three balls of his over. When the ball went to mid-on, Dinesh called Virat in Tamil too to come and collect the ball. He shouted "va va va va Virat" (come come come come) which also caught on the stump mic.
On hearing him talking in Tamil, Sunil Gavaskar who was giving commentary, said that he couldn't understand what Dinesh is talking but he was getting what Dhoni was saying while he was keeping wickets before announcing his retirement.
Watch the video below :
DK talking in Tamil to Ash & Virat 😍😍😍 pic.twitter.com/nCEaWKFFm7

— Anbu (@Mysteri13472103) October 17, 2022
Here's how internet is reacting to DK communicating in Tamil with Indian players :
Dinesh Karthik talking to Ashwin in Tamil is awesome😄 #INDvAUS

— Qissago (@Kahaanikaar) October 17, 2022
Dinesh Karthik talking to Ravichandran Ashwin in Tamil. Wonder what Aaron Finch is understanding. 😂#T20WorldCup

— Debasis Sen (@debasissen) October 17, 2022
@DineshKarthik is making proud all the TNians by speaking Tamil in international level. Now Whole Cricket nations r listening Tamil.

Whether it is English, hindi, tamil Or any other languages. We must respect all the language. https://t.co/muV7A8Hy7F

— Shaurya Prakash Singh (@ShauryaPrakas13) October 17, 2022
The tamil conversation between @DineshKarthik and @ashwinravi99 🤗

— Vidya S (@vidyasharada) October 17, 2022
Nice to hear tamil behind the stumps @DineshKarthik and @ashwinravi99 #INDvsAUS

— 𝐒𝐀𝐓𝐇𝐄𝐄𝐒𝐇𝐊𝐔𝐌𝐀𝐑🇮🇳 (@iamVsatheesh) October 17, 2022
Bro it's so refreshing to hear Tamizh between DK and Ash

— Sid (@united_sid) October 17, 2022
When Smith was in the non strikers end, DK was asking Ashwin to let Finch take a single lol. Clearly they don't rate Smith in t20s

— Shrivatsan Rajagopalan (@vettaikaran77) October 17, 2022
நீ சாதார்ணமாவே போடு முதல் 3 பால் அடிக்கட்டும்😂 https://t.co/i2q1BHl4Hf

— ⒷⒶⓈⒾⓉⒽ 🇮🇳 (@Basith2804) October 17, 2022
This pure from DK ,Our Tamil boys @DineshKarthik https://t.co/o2Fl7lIQD5

— Vimojan Paramjothy (@vimojanUK) October 17, 2022
dei gavaskar lavada adhan purila la aprom yenda mela mela pesitu iruka? let the audience at least listen to what they have to say https://t.co/pKPKe6ObP3

— in my atman era🕊️☮️🤲 (@le_tom_quack) October 17, 2022
Dinesh Karthik would instruct his teammates in Tamil language to keep it within themselves without letting the batsmen know about their game plans and strategies. Instead of discussing with the bowler ball to ball by walking through the pitch, Dinesh decided to go with this way. The stump mic which was kept to record the rattle of stumps for the Television audience, never missed to record the chatters of wicket keepers.
This is not the first time Dinesh using the language to interact with his teammates. During International matches, while playing with Tamil nadu players like Ashwin, Dinesh made the headlines for giving him suggestions and appreciations in Tamil. Not only Karthik, even Dhoni and other Indian wicket keepers would use their respective regional languages to prevent their foreign opponents understanding their game strategies.