Actress's Post About Rishabh Pant Irked Fans!!
Written by Dhiwaharan Published on Jan 06, 2023 | 22:26 PM IST | 156
Follow Us
Comments: 0
Actress Urvashi Rautela's recent Instagram story that had a picture of a hospital, irked the users of online platforms as it was where Indian cricketer Rishabh Pant got admitted. Many fans criticized Urvashi alleging that she is trying to grab the limelight using Pant's health condition. Earlier, she uploaded a picture of herself wearing full make up and captioned it saying "Praying" on the day Pant met with the accident.
View this post on Instagram
The Board of control for cricket in India, recently shifted Rishabh Pant in Kokilaben Dhirubai Ambani Hospital and Research Institute from a hospital located in Dehradun. Medical team of BCCI is expected to monitor Rishabh Pant throughout his recovery and rehabilitation period.
According to the Police reports, the star wicket keeper batsman of the Indian team was alone in his Mercedes GLE car hit the divider railings on the Delhi-Haridwar highway at around 5 : 30 AM. The car reportedly turned into a ball of fire before making a loud noise to alert the people nearby.
"Hearing a loud sound of the accident, nearby local villagers and cops rushed to the spot and pulled him out of the car" said reports. Police reports says that the 25 year old could have dozed off while driving the vehicle which resulted in accident. "Pant met with the accident in Mangalur in Haridwar district when his car hit divider around 5 : 30 AM" Ajai Singh, SSP of Haridwar said. He was rushed to Saksham hospital in nearby Roorkee from where he was later referred to Max Hospital, Dehradun.
View this post on Instagram
The young cricketer suffered injuries in his back, feet and head but currently is in stable condition. He is currently under the observation of Orthopedics and Plastic surgeons. A detailed medical bulletin was released from the hospital management.
Now, after he got shifted to the Mumbai hospital, Urvashi came up with a story in her Instagram uploading the hospital picture. also read : Urvashi Rautela Got Thrashed For Her Post After Rishab's Accident!!
Here's the screenshot of her post :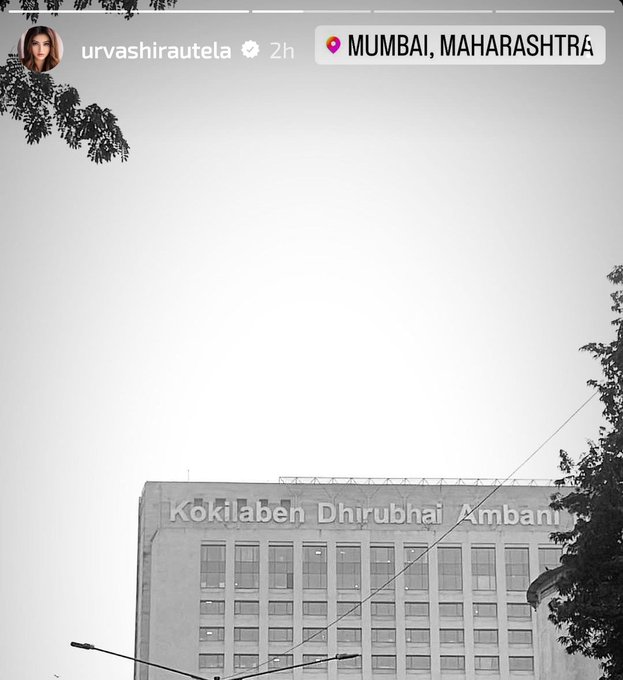 "This is mental harrasment. If a man did this, he'd either be in jail or have a Netflix crime documentary in his name" a follower wrote after seeing the actress's online activity whereas another one wrote "All she care about is more and more interaction and impressions on her social media account"
Check out some of the reactions below :
This is mental harrasment. If a man did this, he'd either be in jail or have a Netflix crime documentary in his name. pic.twitter.com/q2f4BmK7Xk

— Sagar (@sagarcasm) January 5, 2023
This is getting creepy now.had the gender been reversed people would have been talking about jailing the guy.

— KG (@killichilli) January 5, 2023
what a creep, imagine reversing the gender here https://t.co/UWy5R4tS3S

— 👾 (@snviprksh) January 5, 2023
Jesus Christ 🤦🤦 this woman is stalking him… https://t.co/EescxhUQ6D

— Viral R Patel વિરલ પટેલ (@PatelViral) January 5, 2023
If a man did this to a woman, all women would've called it out for what it is, here dudes are laughing it off, when none if it is funny, giving her clout, good to see someone actually saying something, stand up for your fellow man, stop if and what and call her out!

— ' (@justabyst) January 5, 2023
Exactllyyyyyy!!! This is just plain stalking!!! She should be in JAIL!!! Had it been a guy, there would've been plenty of nonsense people to ridicule him, now everyone is literally laughing!!!

— Akshayyyyyy (@PeddiwarAkshay) January 5, 2023
I still wonder why no serious action has been taken against her untill now..This has now gone beyond limits..Sports Authorities should definitely take action against her..FGS He is member of our National Cricket Team.

— Pree Khurana (@KhuranaPree) January 5, 2023