Actress Reacted To Court's Decision On Vijay's Rolls Royce Case !!
Written by Dhiwaharan Published on Jan 25, 2022 | 10:34 AM IST | 193
Follow Us
Comments: 0
On Tuesday, The Madras highcourt has expunged the scathing remarks made by a judge against him in the Rolls Royce tax case. A bunch that consisted Justice Pushpa Satyanarayana and Justice Mohammad Shafiq ruled that the negative comments that were made against the actor by Justice SM Subramaniam will be removed. Fans of the actor has been celebrating the judgement by trending hashtag "Vijay" in the micro blogging social media site.
View this post on Instagram
Senior actress Kasthuri, came up with a tweet in her official twitter handle, writing "Welcome reprieve for Actor Vijay, court rules to remove all adverse comments against him in the Rolls Royce beast customs exemption case" to extend her supportive hand to the actor.
Check out her tweet below :
Welcome reprieve for @actorvijay , court rules to remove all adverse comments against him in the rollsroyce beast customs exemption case. pic.twitter.com/QoJKgal8mx

— Kasturi Shankar (@KasthuriShankar) January 25, 2022
Hashtags such as "Rollsroyce", "Thalapathy" are also being trended by the fans of the actor. Check out some of the reactions that surfaced from their accounts below :
News of the Day 🤩🔥 #Beast #Vijay #Thalapathy66 #RollsRoyce @actorvijay #Thalapathy #ThalapathyVijay#MrCleanThalapathyVIJAY pic.twitter.com/AawGpkllFX

— ⚔️🔥VijayJoe🔥⚔️ (@Nameis_VijayJoe) January 25, 2022
💫I🥰love😍u😘Thalaiva💯 @actorvijay🥰 #Vijay #Thalapathy #Beast #Thalapathy66 pic.twitter.com/ijxFDQzw18

— 𝐕𝐢𝐬𝐡𝐧𝐮_ (@Vishnu060819) January 25, 2022
We Love You Thalapathy ❤️ #Beast @actorvijay pic.twitter.com/XFwNd0eEkD

— Gu Ru Thalaiva (@GuRuThalaiva) January 25, 2022
The Madras HC Obliterated harsh observations by a single judge against Thalapathy VIJAY #Beast @actorvijay
pic.twitter.com/erTxhwTrbE

— Actor Vijay Universe (@ActorVijayUniv) January 25, 2022
No Caption Needed..!!!#ThalapathyVijay 😉💥#Rollsroyce #Beast #Thalapathy66 @actorvijay pic.twitter.com/Pvx7Q9XMiC

— DELJIN VFC (@DeljinVfc) January 25, 2022
Last year, Judge Subramaniam of Madras high court imposed Rs. 1 lakh fine for actor Vijay who sought tax exemption on a luxurious car that got imported from England. He was asked to pay entry tax by the Assistant Commissioner of Business Taxation. Followed by that, Vijay filed a petition in Madras high court in the year 2012, seeking exemption for the entry tax.
During the hearing of the case, Judge Subramanian questioned why the petitioner didn't mention his occupation in the petition to the lawyer of Vijay, says reports. When he was informed that he was an actor by profession, the judge, reportedly said "Renowned actors like him should pay taxes properly" to the lawyer.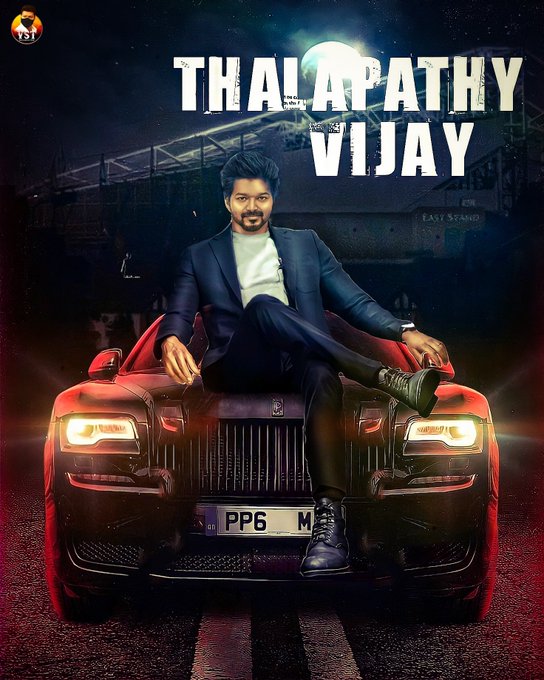 "Tax income is the backbone of our country's economy. Taxes must be paid and it is not a donation and it could not be waived off" the judge further said. "People's tax money is being used for the infrastructure of the country such as schools and hospitals. Tamil actors who has potential to become Chief minister of the state, should be an inspiration and act as a hero in real life as well." Judge schooled.
Judge also condemned the act of Vijay by saying that actors who portray themselves as a socially responsible ones through their movies, shouldn't involve in evading tax. It couldn't be accepted, the Judge said who ordered Vijay to pay appropriate tax for the car he imported within two weeks of time. He also slapped Rs. 1 Lakh fine for the actor and directed him to pay the amount to Chief minister's COVID 19 relief fund within two weeks.
The actor who was upset over the remarks moved the Madras High court in October 2021 to expunge the remarks and also to set aside the fine amount, after having paid the entire entry tax of Rs. 32 lakh.