Articles
Actor Vivekh Responded To An Online User Who Termed Actors As "Koothadi" !!
Known for his habits of planting trees and following legendary scientist APJ Abdul Kalam, comedy actor Vivekh also looks up to Indian Hindu monk Swami Vivekananda. On Friday, the actor came up with a tweet quoting a popular saying of the philosopher through which he addressed the youth. In a way of expressing his disappointment the youths of current generation, a follower said that they won't follow the words of Swami Vivekananda but would listen to actors like Ajith and Vijay. Followed by him, another online user termed actors as "Koothadi" only to receive a fitting reply from Vivekh.
[wp_ad_camp_1]
Comedy Actor Vivekh who is known for his socially responsible opinions in his movies, is no different in his real life as well. He who is pretty much interactive with his followers in Twitter, often replied to his fans and followers. He who never shied away to respond to the criticisms, recently grabbed the headlines for the looks he displayed through photoshoots.
On Friday, Vivekh uploaded a quote of Swami Vivekananda in his official twitter account through which he is enjoying 40 lakh followers. The saying of Swami Vivekananda advised youngsters to focus on concentration. "Concentrating is the only way to gain skills. Be it any kind of job, through concentrating, one can easily complete it." said the quote shared by the actor.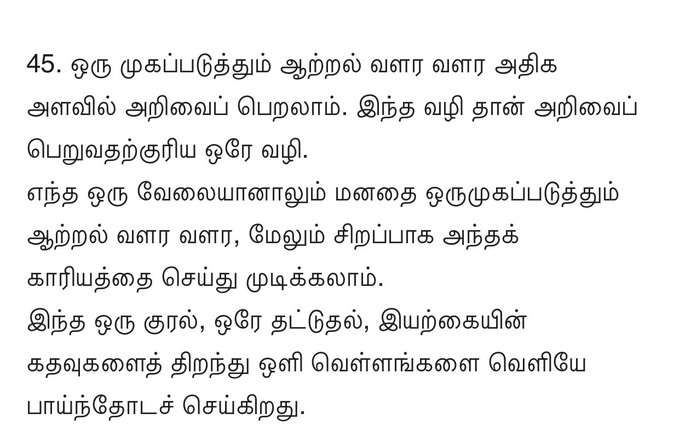 "Vivekanandar is saying this for the students" said Vivekh in his caption while sharing the quote. Check out his tweet below :
மாணவர்களுக்காக இவ்வாறு கூறுகிறார் விவேகானந்தர் !! pic.twitter.com/oEQu8bUWr4

— Vivekh actor (@Actor_Vivek) January 29, 2021
"They won't listen to his words but will fight between themselves for Vijay and Ajith" a follower said out of frustration and Vivekh replied to him saying that everything will change day by day.
ஒரு நாளில் மாறாது ! ஒவ்வொரு நாளாக மாற்றம் வரும்!!

— Vivekh actor (@Actor_Vivek) January 29, 2021
[wp_ad_camp_1]
Another follower, in a way of degrading all the actors, said that actors have changed the mindset of people by writing "ஆமா கூத்தாடிங்க மக்கள அப்படி ஆக்கி வச்சுருக்காங்க…என்ன விவேக்"
ஆமா கூத்தாடிங்க மக்கள அப்படி ஆக்கி வச்சுருக்காங்க…என்ன விவேக்

— டெலக்ஸ் (@telexoffl) January 29, 2021
On seeing his tweet, display picture and handle name, Vivekh immediately questioned him why he is keeping a display picture of a person who belongs to the family of "Koothadi". "We artists are not going to get degraded just because of what you said. Even Lord Shiva danced once" Vivekh said by writing "கூத்தாடின்னு சொல்லீட்டு ஏன் சார் எங்க குடும்ப கூத்தாடிய profile dp யா வச்சிருக்கீங்க?Face with tears of joy கலைஞர்களை கூத்தாடி என்று நீங்கள் சொல்வதால் நாங்கள் சிறுமைப்படுவதில்லை. பெருமைதான்! அந்த சிவனே மன்றில் ஆடுவது கூத்து தானே!!"
Here's his reply tweet :
கூத்தாடின்னு சொல்லீட்டு ஏன் சார் எங்க குடும்ப கூத்தாடிய profile dp யா வச்சிருக்கீங்க?😂 கலைஞர்களை கூத்தாடி என்று நீங்கள் சொல்வதால் நாங்கள் சிறுமைப்படுவதில்லை. பெருமைதான்! அந்த சிவனே மன்றில் ஆடுவது கூத்து தானே!!🙏🏼🙏🏼🙏🏼🙏🏼 https://t.co/B0R1qg4WOY

— Vivekh actor (@Actor_Vivek) January 29, 2021
This tweet from the actor garnered majority number of positive reactions. Director John Mahendran who is known for directing "Sachein" of Vijay lauded Vivekh for his reply as well. Check out some of the reactions below :
செருப்படி…

— John Mahendran (@johnroshan) January 29, 2021
இதுக்கு நீங்க செருப்பு எடுத்து அடிச்சி இருக்கலாம்

— Babu (@BabuJo1224) January 29, 2021
கூத்தும் ஒரு கலை தான்!! அதில் இருந்து தான் எல்லாமே தோன்றியது!!

இயல் இசை நாடகம் வச்சி தான்டா தமிழையே வளத்தாங்க.. ஆனா என்ன காலத்துக்கு ஏத்த மாதிரி நிறைய மாறிடுச்சு.

— Shivaa (@ShivaaSRT) January 29, 2021
[wp_ad_camp_1]
நன்றாக சொன்னீர்கள். ஒரு திரைப்படத்தில் ரஜினி சார் சொன்னது நினைவுக்கு வருது. நடிக்கிறது அவ்ளோ ஈஸி இல்லை. பெண்டு கழண்டுடும்.

— கார்த்திகேயன் (@kscckcb) January 29, 2021
விவேக் சார்…. இந்த கேள்விக்கெல்லாம் விடை கொடுத்துதான் ஆகனுமா…! Ignore பன்னிட்டு போங்க சார்…! நமக்கு உபயோகமான வேலை கெடக்கு….!

— Ilango Socialism 🇮🇳 🖊️ (@ilangovan004) January 29, 2021