Actor Karunas Abused TN Chief Minister & Police !! SHOCKING Speech !!
Written by Dhiwaharan Published on Sep 21, 2018 | 07:57 AM IST | 146
Follow Us
Comments: 0
Actor-turned-politician Karunas has been booked by the Chennai city police for a controversial speech he made in Chennai on Monday, which has now gone viral on social media.
This comes hours after the MLA from Thiruvadanai, Ramanathapuram district 'expressed regret' for his remarks.
[wp_ad_camp_1]
Speaking to Tamil news channel Puthiya Thalaimurai on Thursday, Karunas said that his intention was not to hurt any community.
"I only pointed out that certain media houses are making mistakes. I didn't speak against any community… I express my deep regret if whatever I spoke in anger over what has happened has hurt anyone. I will make sure it doesn't happen again. As far as I am concerned, I only spoke about the demands of my community. It is not my intention to demean and speak ill of others," he said.
[wp_ad_camp_1]
In a 47-minute long speech at Valluvar Kottam in Chennai, Karunas had made controversial remarks about Tamil Nadu Chief Minister Edappadi Palaniswami and Deputy Chief Minister O Panneerselvam. He claimed that though he belongs to the Mukkulathors community, commonly known as Thevars, his loyalties stand with the Sasikala camp but many 'disloyal' members of his community had flocked to the EPS camp, in a reference to the Deputy CM, who also belongs to the community.
He also dissed the media, stating that the press was owned by Iyers and Nadars who repeatedly harp on the Nadar name.
In his speech, he also attacked a police officer who he claimed stopped him from standing next to Tamil Nadu Chief Minister Edappadi Palaniswami at an event.
[wp_ad_camp_1]
Karunas said that the police officer accused one of his party men of extorting money from people with a knife. In response to this accusation, Karunas had said that he and his coterie was such that they could spend up to Rs 1 lakh just on alcohol and biryani, implying that they need not resort to such extortion.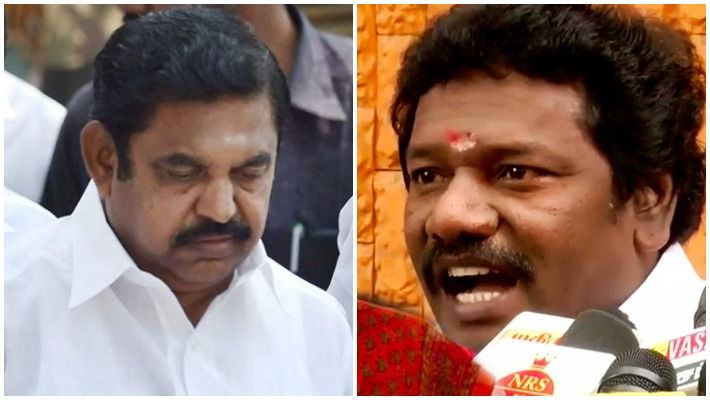 Following the controversial speech, VG Narayanan of the Hindu Makkal Munnani had filed a complaint with Chennai Commissioner of police AK Viswanathan.
Speaking to media persons on Thursday, Tamil Nadu Fisheries Minister D Jayakumar said that the Chief Minister had been made aware of Karunas' speech and that action will be taken.
Watch the video here :
Source : Red Pix