Actor Karunakaran Receives Threat From Vijay Fans ?? Fans Made Posters Of Death Tribute !!
By Dhiwaharan
There's no denying the fact that Vijay is one of the most talented and charismatic stars in the Tamil film industry today. Fondly called 'Thalapathy', the actor enjoys a strong fan following thanks to his good looks, dashing personality, humble nature, impressive versatility as a performer and positive attitude towards life. During his career, he has starred in quite a few big blockbusters and this has established him as a force to be reckoned with. Now, Vijay and his fans are in the news for a shocking reason.
Actor Vijay took everyone by surprise with his politically laced statements at the Sarkar Audio Launch, which was held at the famous Sairam engineering college in Chennai.
[wp_ad_camp_1]
After addressing the gathering and praising his team, 'Thalapathy' Vijay compared Sarkar to his previous hit 'Mersal' saying, "the special thing about Sarkar is that 'Mersal' had a bit of politics while the politics shown in Sarkar will be 'mersal' (meaning amazing)."
Hinting his interest in entering into politics, actor Vijay said, "People will contest in the elections to form government but we have formed our Sarkar (government) already and now we are going to contest in the elections." Fans went crazy as the actor spoke of elections, but he immediately clarified that he was talking about the film and asked people to vote for the movie if they like it.
When the event host asked him about the rumours that he is playing a Chief Minister role in the movie, he jokingly replied that he is not playing the role of CM in the movie. "If I ever become a CM in real life, I won't be acting as a CM but do my duties honestly," he added. This is the first time that 'Thalapathy' has openly spoken about his ambitions to become a CM, even hypothetically.
"We have to pay for even our death certificates now. If the leader is just, his government will flourish. Justice will always win, but it takes time," he concluded his speech.
In an unexpected development, actor Karunakaran has filed a police complaint against the Thalapathy Army for threatening him on the social media.
[wp_ad_camp_1]
Karunakaran's troubles with Thalapathy fans began shortly after the Sarkar audio launch. During the event, Vijay had quoted a few proverbs about how one should just let things pass and not get provoked by anyone's actions.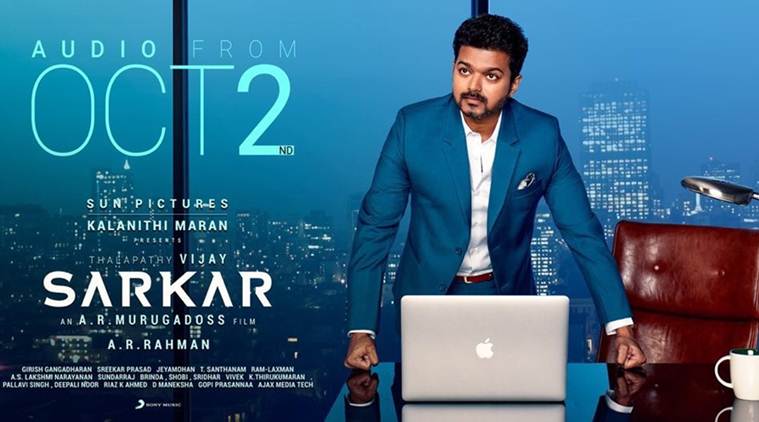 Reacting to this, Karunakaran tweeted to Vijay and asked him whether his words applied to his fans as well or not. Following this, he was trolled by countless self-proclaimed Vijay fans. Some of them called him a Telugu actor settled in Kollywood, others said that he was a Rajinikanth/Ajith fan and hence felt jealous of Vijay. Following this, Karunakaran not only filed a complaint but also asked the fans to do something constructive and hence help the society grow. This is a developing situation and it'll be worth watching on what happens next.
The first tweet of Karunakaran is against Vijay's Sarkar audio launch tweets :
Is Kutty Kadhai only for leaders or also for actors ask your fans to not be abusive nanba Nanby and check if they listen .Plz ask them not to be abusive and hateful #Peace bro

— Karunakaran (@actorkaruna) October 3, 2018
Following this tweet the actor posted a series of tweets against the actor and his fans :
Comments posted by an actors fans define the quality of an actor ☝️

— Karunakaran (@actorkaruna) October 5, 2018
Next question will be on my mother language are you guys ready #Sarkar adimai ☝️

— Karunakaran (@actorkaruna) October 6, 2018
[wp_ad_camp_1]
Chill more you threaten me it shows your disability to reply me and I am loving it will be back with next ☝️#Gammunu

— Karunakaran (@actorkaruna) October 6, 2018
Tag this Id if you guys really had guts @actorvijay try it might work

— Karunakaran (@actorkaruna) October 6, 2018
Humble request to other actors fans pls avoid using abusive comments in the name of supporting me #PleaseBro

— Karunakaran (@actorkaruna) October 7, 2018
Hii I will not enter politics to safeguard me will enter when people need some one like me to safeguard them https://t.co/PRTvdUjMWi

— Karunakaran (@actorkaruna) October 7, 2018
Friends Good night …. the fear that is being created in this society is unwanted for this society realise it work for it don't defend in cheap ways use word power not by threat calls grow up work for the state nation not for individuals but for the society ☝️

— Karunakaran (@actorkaruna) October 7, 2018
For these tweets it is allegedly said that the actor received death threat from the fans and  according to Samayamwebsite, it is said that the fans made posters paying death tribute to Karunakaran. According to Indiaglitz , it is also said that the actor is lodging police complaint against Vijay and his fans.
What do you think on this isse ?? Comment below !!