Abhirami Venkatachalam's Speech About "Kalakshethra" Issue Irked Internet!!
Written by Dhiwaharan Published on Apr 05, 2023 | 15:38 PM IST | 170
Follow Us
Comments: 0
Abhirami Venkatachalam who is known among Tamil audience for appearing in film actor Ajith Kumar's "Nerkonda Paarvai" as lead actress's friend, made a controversial statement about the ongoing Kalakshethra issue.
The emerging actress who is expected to appear in Thalapathy Vijay's "Leo" next, said that the faculties of Kalakshethra are being targeted without getting a chance to explain their state. Identifying herself as an alumni of Kalakshethra, Abhirami said that nothing like what is being stated against Kalakshethra, has happened in the past years. She also took an indirect dig at singer Chinmayi for talking about her trauma after so many years instead of making it public right after becoming subject to molestation.
also read : Abhirami Replied To People Who Commented On Her "Bust Being Big" !!
An assistant professor at the prestigious Kalakshetra Foundation in Chennai, Hari Padman, has been arrested by the police on charges of sexually abusing his students. The arrest comes in the wake of student protests that erupted after allegations of sexual harassment at the institute.
Hari Padman, who had been evading the police since his return from Hyderabad, was apprehended from a house in Madhavaram early on Monday. He has been charged under Sections 354A, 509 of the Indian Penal Code and Section 4 of the Sexual Harassment of Women at Workplace Act.
The case was filed after a former female student accused Hari Padman of sending her obscene messages and physically assaulting her while she was studying at the institute. She also claimed to have discontinued her studies due to his abusive behavior.
In addition to Hari Padman, repertory artists Sanjit Lal, Sai Krishnan, and Sreenath have also been implicated in the case. The students of the institute have formed a union with Jisma K K as president and Shakthi Shivani as secretary, and have alleged that the director of the institute, Revathi Ramachandran, and head of the dance department, Jyotsna Menon, engaged in body-shaming and made casteist remarks against them.
also read : Kalakshetra Professor Got Arrested By Chennai Police!!
Now, in an interaction with the media, Abhirami Venkatachalam made a statement, claiming that the faculties are being harassed after just one side of the issue is out. Abhirami Venkatachalam has expressed her support for the management and teachers of the institution, urging people not to harass them. In a statement posted on her official Instagram handle, she requested "non-kalakshetrians" to refrain from commenting on the issue and to hear the story from both sides before making any judgments. She went on to criticize those who had shared posts about sexual harassment without understanding the true meaning of the term. She also asked them to stop defaming the institution for their own benefit.
In an interview with a YouTube channel, she said "I'm a kind of person who voice out for the issues based on sexual abuse. Being an alumni of Kalakshethra, I don't like talking about the issue. We shouldn't see one side of a story always. Lot of comments are surfacing based on the one side story that has been told" in an interview.
"Nothing like this happened in the college which is being functioned for the past 89 years. Everywhere I go, people who don't belong to Kalakshethra, are telling be about the institution. Even those who can't even pronounce "Kalakshethra" correctly, are making negative comments about it. It's really hurting me. As a student of Kalakshethra, defamation of the institution is what happening now" Abhirami Venkatachalam said and added that she is taking a stand for Revathi "mam" who became director recently.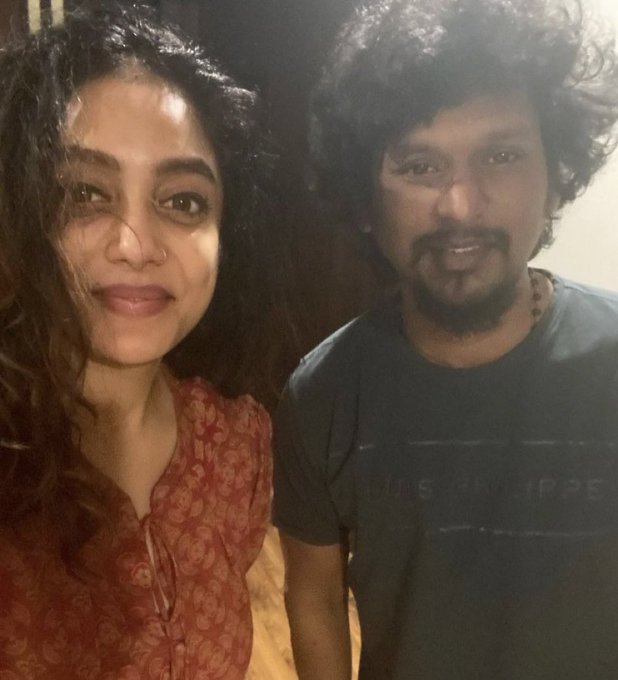 "It is said that the harassment is taking place for the past 10 years. Revathi mam was not a director at that time but many are blaming her. That teacher was never given a chance to speak. He has a daughter and wife but no one cared about it. Teachers whom we looked up to, are being defamed now" She further said.
also read : "They Don't Even Leave Kids" Abhirami Wants Online Harassers To Be Jailed !!
Abhirami Venkatachalam also said that those who are going through abuse, should talk about it immediately aand there's no point in talking about it after gaining fame.
Watch the video below :
Check out some of the reactions below :