"Aari Knows No Fear" – Evicted Contestant !!
By Dhiwaharan
Singer, Radio Jockey and voice artist Suchithra uploaded a post her official Instagram account, expressing her disappointment over how the makers of Bigg Boss show portrayed her. She took part in the show as a wild card contestant and got eliminated for receiving less number votes from the audience. Now, in her most recent post, she uploaded a picture of herself from an event and said that doesn't look as grumpy as how Bigg Boss showed her.
[wp_ad_camp_1]
Suchithra who entered the house as a "wildcard entrant", spent three weeks in the Bigg Boss house. While getting evicted, Suchithra said to Kamal Haasan that her father appeared in her dreams and told her to get out of the house as nothing about her was telecasted. She also expressed her fear of mass trolls and criticisms in social media. However, the radio jockey was well received by the netizens after her eviction.
During her final conversation with Kamal Haasan before walking out of the show, Suchi said that Bigg Boss is her most favourite show and added that she entered the house as a fan girl. The radio jockey also said that she wanted to get her singing career back by participating in the show. After watching her compilation video, Suchi worried about her appearance in the show and said to Kamal Haasan that she looks ugly in the video which could be one of the reasons for the less number of votes she received.
Now, after attending the baby shower function of her friend and playback singer Ranjith Govind, Suchi added three pictures of herself and added "Im not a grumpy-ass like #biggbosstamil showed me to be" as her caption.
Check out her post below :
[wp_ad_camp_1]
"sad i chose unconditional friendship over that in BB house, but…no regrets 💖 this is how we live our lives, we givers" replied Suchithra to a follower to commenter "U r a highly talented beautiful soul😍n tats the reason v all hav huge respect n abundant love on u😍"
Check out some of the other reactions she received :
Earlier, Suchi uploaded a post writing a caption saying "Had to remind myself of how I really look, in case I've even subconsciously believed any of the distorted image of me projected already, and now being manipulated through 'kurumpadams' in #biggbosstamil4 . 🎵Let me sing a #kuttistory – about a haunted house & a game of #smokeandmirrors 🎧"
[wp_ad_camp_1]
Recently Suchi who had a good bond with Balaji Murugadoss inside the house, strateched her supporting hand to Aari and said that he doesn't have fear of losing anything including his image. "Aari doesn't know what fear is. He doesn't care about how people are branding him inside the house" said Suchi.
Watch the video below :
She also shared the post in her Instagram story and said that she stands with her statement. "Aari Arjunan knows no fear" she said.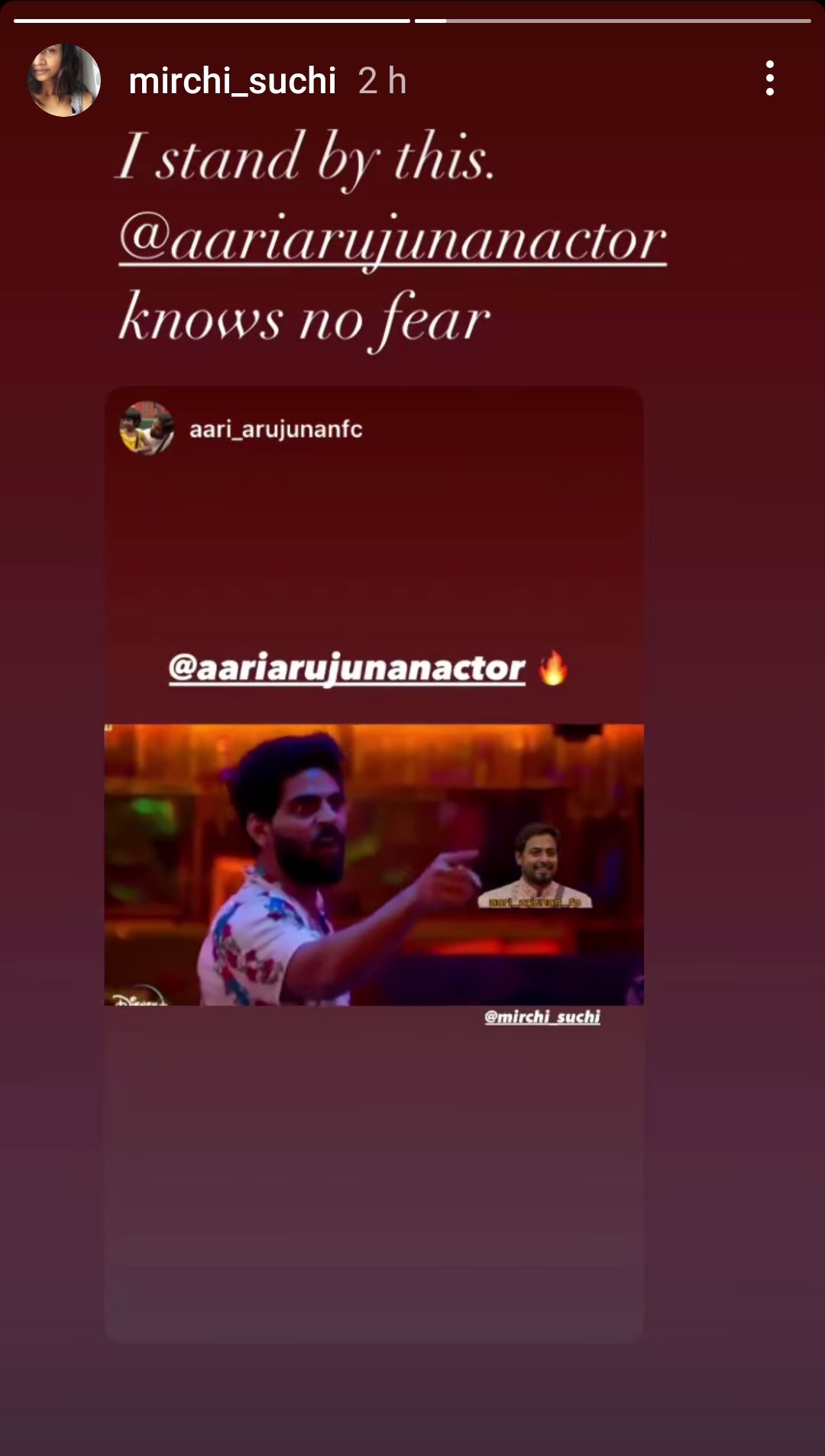 Comment your views on these posts of the Singer !!