A Set Of Online Users Condemned Suriya For Not Uttering "Jai Hind" !!
Jai Hind
Madhavan
Shah Rukh Khan
suriya
8 months ago
By Dhiwaharan
For not saying "Jai Hind" in the recently released "Rocketry : The Nambi Effect", a set of online users called out Tamilactor Suriya. Comparing his clip with Bollywood Superstar Shah Rukh Khan, the online users questioned why Suriya didn't say "Jai Hind" like him. It is notable that Gayathri Raguramm made the same accusation against the actor during the release time of the film.
"Rocketry : the nambi Effect" is a film based on the biography of scientist Nambi Narayanan who was falsely accused of espionage. The film is believed to be about Narayanan's days as a graduate student at Princeton University, before exploring his work as a scientist and the false espionage charges placed upon him. Madhavan, apart from reprising the role of Nambi Narayanan, has turned director for the first time through this project.
Reality Check ✅✅✅✅✅✅@iamsrk Said "Jai Hind" ✅✅

So called South actor Chutiya @Suriya_offl don't like to say "Jai Hind"????
Is there any particular reason @ActorMadhavan @rameshlaus @taran_adarsh
I bycott Suriya Movies #sharukhkhan #Brahmastra #Shamshera #VikranthRona pic.twitter.com/r1INCiPnf8

— Ooops.oops (@oopspopspopsoop) August 1, 2022
It is very well known that actor Suriya played a guest role in the film after "Vikram". Bollywood Superstar Shah Rukh Khan did the same role for the Hindi version. Among the many reactions that surfaced after the film's release, many users who represent BJP party in internet questioned why Suriya didn't say "Jai Hind" at the end.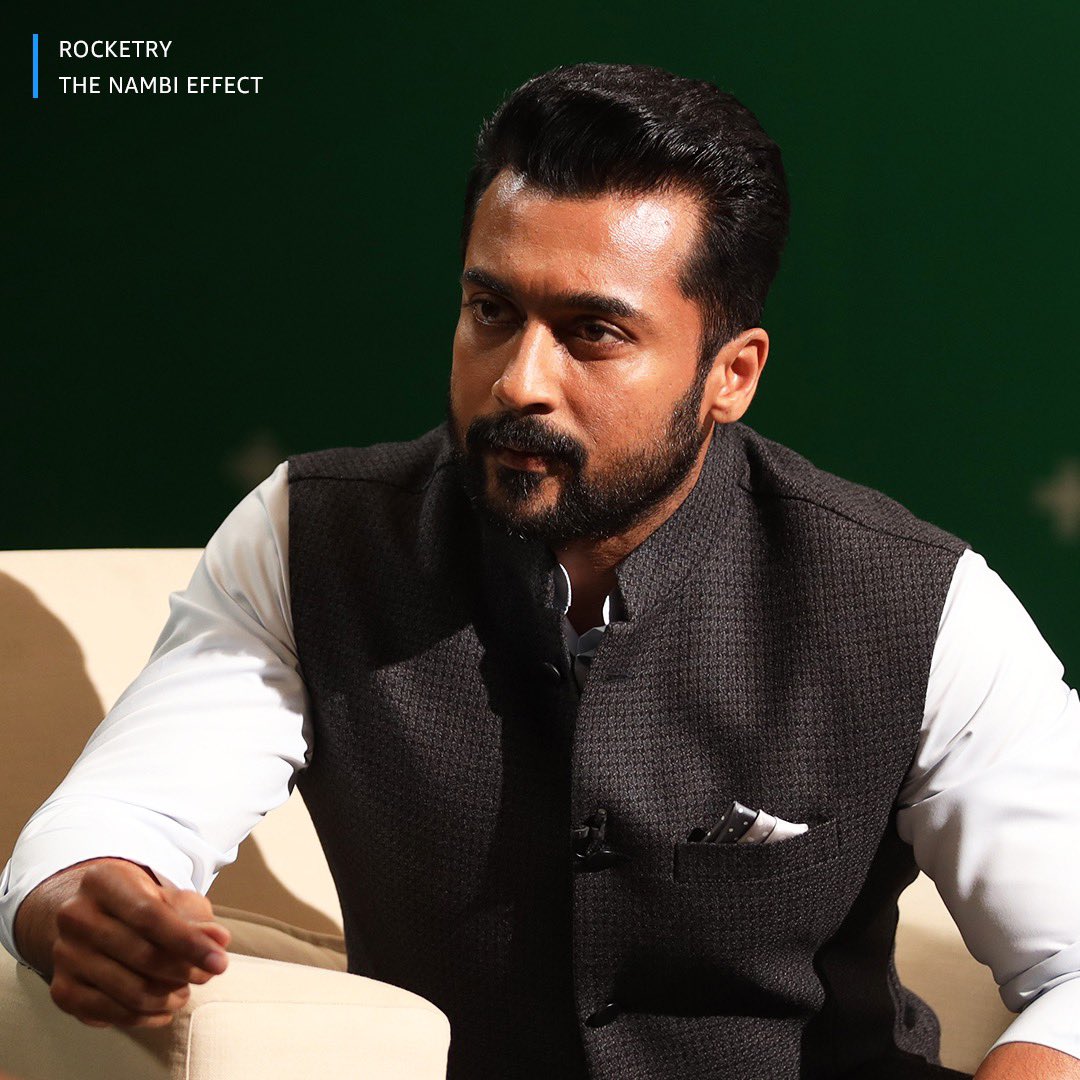 "In #Rocketry tamil version, actor @Suriya_offl not even said "Jai Hind" and he was awarded National award this year for his earlier movie.." tweet of a twitter user bio of whom says that he belongs to BJP party read whereas another one bio of whom says that he also belongs to BJP party said "@ActorMadhavan you are the only one can answer this…Did @Suriya_offl didn't say jai hind and then it got removed or did he not say at all…?? Please answer this Madhavan..nation wants to know.. atleast TN wants to know… humble request"
Here's their reactions :
ஜெய்ஹிந்த் சொல்லாத @Suriya_offl தேசிய விருது?
😞😞

In #Rocketry tamil version, actorr @Suriya_offl not even said "Jai Hind" and he was awarded National award this year for his earlier movie..

— Krishnaswamy (@kristanjore) August 1, 2022
@ActorMadhavan you are the only one can answer this…Did @Suriya_offl didn't say jai hind and then it got removed or did he not say at all…?? Please answer this Madhavan..nation wants to know..atleast TN wants to know…humble request

— NKR Iyer (@NarayananKR777) July 31, 2022
Sir, Don't understand what's the hesitation to say "Jai Hind" by
Suriya when SRK says in Hindi version of movie at climax. The so called National Award Winner @Suriya_offl
wants award from nation without nationalistic thoughts…

— Vignesh Kumar (@VigneshKumar_04) July 31, 2022
In telugu dubbed version, they've shown suriya saying as Jai Hind when his back is shown after Nambi Says Jai Hind… it's clear there that dubbing artist added that when there no dialog said by suriya😆

— śhunyā0️⃣ (@Modest_Heckler) July 29, 2022
@ActorMadhavan should have chosen @akarjunofficial staunch patriot and it would have suited the subject , instead of mentally retarded @Suriya_offl who thinks saying jai hind is supporting @narendramodi . After sokka thangam @iVijayakant only Arjun is patriotic in Tamil films https://t.co/pn9nsAweOS

— S. Ranganathan (@rangats) July 18, 2022
Before #Bycottbollywood and #bycottlalsinghchadda

check this and feel the difference Actor from Bollywood SRK said Jai Hind where so called south actor chutiya/suriya doesn't like to say Jai Hind.#bycottSuriya#bycottsuriyamovies#VikranthRona #RRR #RocketryTheNambiEffect pic.twitter.com/hg8X1xaLSU

— Ooops.oops (@oopspopspopsoop) August 1, 2022
Hmm.. If it's so difficult to utter the word "Jai Hind" I think it would have been better if @ActorMadhavan had casted someone else. Actor #arjunsarja would have done better justice to the role@sansbarrier @karthikgnath #RocketryTheNambiEffect #Rocketry #Suriya #JaiHind pic.twitter.com/rfAsX9rWAN

— Average_Indian (@Naveen_M07) August 1, 2022