A. R Rahman's Unexpected Tweet About Ilayaraja Wins Internet !!
By Dhiwaharan
A tweet shared by A. R Rahman about Ilayaraja on Friday, wins Internet with people lauding the Oscar winner for his humbleness. The tweet contained the link of a news article of News 7 about music maestro Ilayaraja's opinion on how a song should be. In a way of endorsing his statement, Rahman shared it in the timeline of his official twitter handle through which he is enjoying 2 crore plus followers. The tweet garnered huge reception with fans sharing a video of Rahman playing Raaja's music from "Punnagai Mannan" film in front of him. Actor Dhanush shared the tweet in his handle and cherished the bond between the two musical legends.
[wp_ad_camp_1]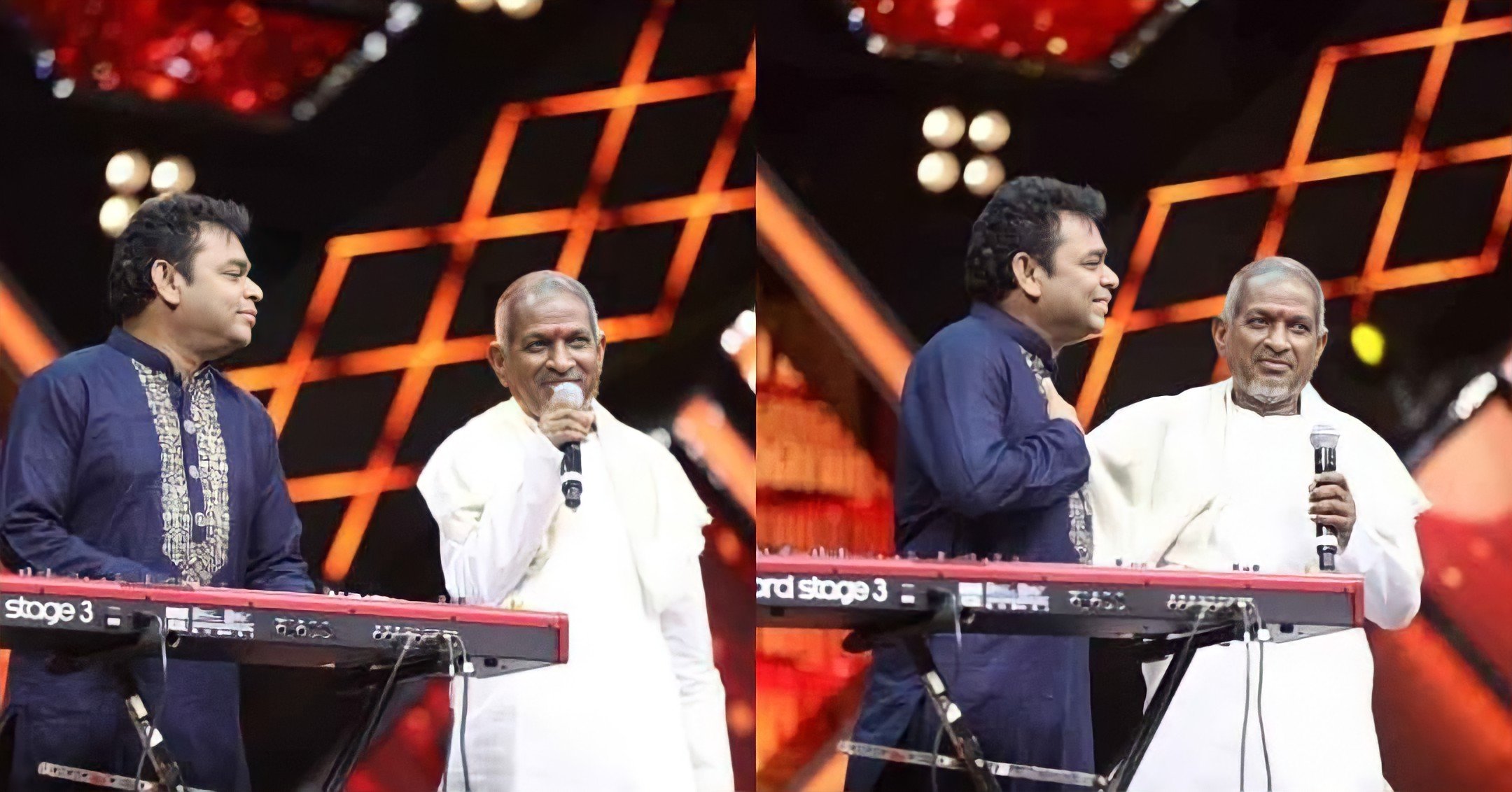 Music maestro Ilayaraja has scored the music for more than 1,000 films and 5,000 songs. He has also rendered 500 numbers and won the national award five times. Most recently, while talking about his films "Munthanai Mudichu" and "16 Vayathinile" marking 38th and 40th years anniversaries respectively, Ilayaraja opined on how a song should really be. "They have been hearing the same song repeatedly. They are still listening to a song which was composed 20 years ago. A song should be a newly blossomed flower. A newly blossomed flower would get old and fall off in two days. But a good song should always remain as a flower" Ilayaraja said according to News 7.
"In music, you could only enjoy while it was blossoming from a bud to a flower. There is no use otherwise. People should say that it feels new and they should feel it was composed recently. There is no use in music being old. Heart will always long for new things and won't look back old ones. But the reason behind people still hearing old songs is, only because they feel that they were new. I have built a new studio to compose music again" Ilayaraja said.
After reading it, A. R Rahman who is believed as his rival, shared it in his official twitter handle which audience didn't see coming. Check out his tweet below :
ஒரு பாட்டு எப்படி இருக்கணும்னா..? இளையராஜா | News7 Tamil https://t.co/9QEwOf5IRy

— A.R.Rahman #99Songs 😷 (@arrahman) July 23, 2021
[wp_ad_camp_1]
"The tweet and what's in the tweet !! This is it." actor Dhanush who is busy doing projects for Hollywood, Bollywood and Kollywood said sharing the tweet of A.R Rahman.
🙏🙏🙏❤️❤️❤️❤️🙏🙏🙏 The tweet and what's in the tweet !! This is it. https://t.co/R4212vEhxn

— Dhanush (@dhanushkraja) July 23, 2021
Many other fans awed the humbleness displayed by Rahman towards Ilayaraja and started lauding their bond. Few even proposed a project with the duo composing music together whereas many others shared the video of Rahman composing "Punnagai Manna" BGM in front of Ilayaraja at "Ilayaraja 75" concert.
Check out some of their tweets below :
இசையும் இசையும்! #இசைஞானி #இசைப்புயல் #ARRahman #Ilaiyaraaja pic.twitter.com/9XkDb4eEIs

— Devanayagam (@Devanayagam) July 23, 2021
There's nothing you have not achieved, yet you retain the humility of a common man. In a world where you can be anything, thanks for choosing to be humble, sir. pic.twitter.com/oU7lL9kZfx

— George (@VijayIsMyLife) July 23, 2021
Bliss✨😇 pic.twitter.com/8wRFvTeRGV

— தர்மதாசன் (@Dharma_786) July 23, 2021
[wp_ad_camp_1]
தலைக்கனம்னு ஒண்ணு கொஞ்சங்கூட இவர் வாழ்நாள்ல வரவே வராதுல 😍 https://t.co/6bMW5PTZMn

— Guru official ™ (@GuruLeaks) July 24, 2021
"குன்றிலிட்ட விளக்கு" என்றொரு சொற்பதம் தமிழில் உண்டு. நாம் வாழும் காலத்தில் அதற்கான எடுத்துக்காட்டு நமது ஆஸ்கர் நாயகன் தான்.. 👏👏 https://t.co/GdWPPawFMZ

— SKP KARUNA (@skpkaruna) July 24, 2021
Apart from music , Reason for AR Rahman being loved by all across country , world .

His personality !!! Egoless
As SPB sir said , he's like a child https://t.co/NR0hTU3mZb

— Prakx | One8 (@galwithnochill) July 23, 2021
எண்ணம் போல் வாழ்க்கை
எண்ணம் போல் தான் வாழ்க்கை.

தலைவன் மனசுக்கு எப்பவும் அவர் நல்லா இருப்பார். 🧘🏻‍♂️😌 https://t.co/Uv4fuDiLCN

— the GReat one (@Attitudism) July 23, 2021