A.R Murugadoss Is Trending In Social Media After The Official Announcement Of "Thalapathy 65" !!
A.R. Murugadoss
Thalapathy
Vijay
CM / Updated: 2020-12-11
16:19 IST
By Dhiwaharan
After the announcement of Vijay's next project emerged, fans of the actor could not resist themselves from expressing their happiness. They have been sharing Vijay's pictures from the video that got released on Thursday o announce about the project. Hashtags such as "Thalapathy 65", "Vijay", trended in social media platforms as a part of the celebration. Meanwhile, seasoned filmmaker A.R Murugadoss also trended in the micro blogging social media platform as he was supposed wield the megaphone for the 65th film of actor Vijay.
[wp_ad_camp_1]
Collaborating with Sun pictures after Sarkar, Vijay, this time going to join hands with young filmmaker Nelson Dileepkumar for his 65th film. The crew made the announcement by uploading a video in their respective social media accounts. Music of the film is going to be composed by Aniruth ravichander.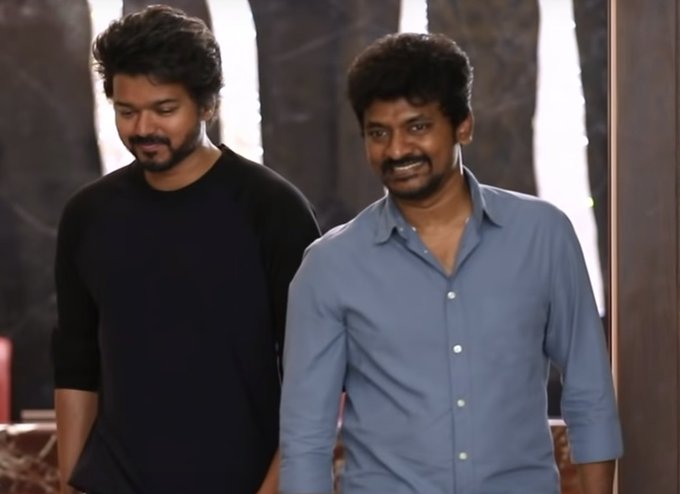 The video showed actor Vijay having a conversation with the owner of Sun pictures Kalanithi Maran in the office of Sun TV. After Neslon joined them, Vijay shakes his hands with Kalanithi Maaran and the motion video of the grand announcement starts filling the frame.
Tentatively titled as "Thalapathy 65", the film is planned to go on floors soon. "Happy to announce my next film with @actorvijay sir" wrote Nelson Dileepkumar while sharing the announcement.
Happy to announce my next film with @actorvijay sir 😊🤗@sunpictures @anirudhofficial @Jagadishbliss #Thalapathy65 pic.twitter.com/XyXakF5zJ4

— Nelson Dilipkumar (@Nelsondilpkumar) December 10, 2020
Nelson who debuted to Tamil film industry through Nayanthara's "Kolamaavu Kokila", is currently directing Sivakarthikeyan's "Doctor". The film's single "Tik Tok" became a sensational hit among Kollywood fans. He attempted to direct Silambarasan in "Vettai Mannan" years back but failed in it. The film was supposed to have actor Jai as one of the leads as well. Sivakarthikeyan disclosed that he worked as an assistant director in the movie while talking in an award function.
Meanwhile, a number of twitter users came up with tweets saying that the day could have been A.R Murugadoss's if everything went well since the beginning. It was highly believed that Murugadoss who directed Vijay in "Thuppakki", "Kaththi", "Sarkar" is going to direct him in his 65th film. However, he got opted out of the project due to various reasons.
It was rumoured that the duo is going to make the sequel of their blockbuster film "Thuppakki". Earlier, reports suggested that Sun Pictures asked A.R Murugadoss to lower the budget of the film. The reduction, the production house demanded included the salary of the filmmaker who was earning Rs.30 crores per film. It was concluded that Actor Vijay who earned Rs.80 crores for his previous film "Master", was going to receive Rs.70 crores for Thuppakki 2. A.R Murugodoss was asked to reduce his salary drastically from Rs.30 crores to Just Rs.10 crores. However, the project didn't take off and Nelson replaced A.R Muragadoss for "Thalapathy 65".
[wp_ad_camp_1]
Now, on seeing the latest announcement, fans reacted in various ways. While a set of fans supported Murugadoss and said that he deserves to direct Vijay for the blockbusters he gave with Vijay earlier, another set of fans trolling the filmmaker.
"Today was supposed to b one director's day but everything collapsed and am very happy tat d 'once' a top director is taught a lesson nd finally bite d dust nd he deserves this for all his money driven nd intolerance over attitude towards his previous few movie producers." wrote a twitter user whereas another one said "I miss Thalapathy _A.R.Murugadoss victory combo65"
Check out some of such reactions below :
Today is supposed to be #Murugadoss Day.. 🤣🤣
But, now the day for @Nelsondilpkumar 👏👏
Great Relief for #Vijay fans..!#Thalapathy65 #Thalapathy65bySunPictures #ThalapathyVijay #Thalapathy pic.twitter.com/Kq4q7NaDcg

— Shankar (@Shankara_Subbu) December 10, 2020
#Thalapathy65
AR Murugadoss : pic.twitter.com/XOXNreUdl2

— Shiv (@wtfShiv) December 10, 2020
Today was supposed to b one director's day but everything collapsed and am very happy tat d 'once' a top director is thought a lesson nd finally bite d dust nd he deserves this for all his money driven nd intolerance over attitude towards his previous few movie producers.#Karma

— Naganathan (@Nn84Naganatha) December 10, 2020
[wp_ad_camp_1]
Ok but,i missing A.R
Murugadoss

— Thalapathy Tamilalagu 03 (@Tamilalagu30) December 10, 2020
#கோபிநாயினார் ஏமாத்துன சாபமோ என்னமோ இப்டி எலாம் பேச்சு வாங்கனும்னு @17:00 👇👇👇 #Katthi story by Gopi is 😥😥😥https://t.co/Db726tzeg1 https://t.co/fpzHaaDAvh

— காளி 💥🤘 (@Bohra2Point0) December 10, 2020
If That Director Didn't Helped him in his Failure times That actor should compete with the likes of SK,Dhanush,karthi by now…

Vanmatha kammi panetu adutha pozhapa parunga ya 🤫 https://t.co/r5gNiOQteC

— Nandha kumar (@Nandha2908) December 10, 2020
@ARMurugadoss நீங்க ஒரு good
Film maker 😎🔥
எப்போ mass movies எடுக்கலாம்னு நினைசீங்களோ
அங்க தான் நீங்க தோத்தீங்க
மறுபடியும் பழைய #Murugadoss ஆக திரும்பி வாங்க 😊#Ghajini #SooraraiPottru

— Sʊʀʏa ✈︎|ˢᵒᵒʳᵃʳᵃⁱ ᵖᵒᵗᵗʳᵘ (@athavan_01) December 10, 2020
Ar Murugadoss et S.Thaman en ce moment #Thalapathy65 #Master pic.twitter.com/fDACUtelO9

— 🩸THALAPATHY🩸 (@Thalapthy_M10) December 10, 2020
@ARMurugadoss His Movie template Suits him well now 😅 #murugadoss #armurugadoss #Thuppakki #thuppakki2 #arm #Vijay #Thalapathy65 #ThalapathyVijay #T65 #SunPictures #Nelsondilipkumar #Master #MasterPongal https://t.co/BRFafyRuqy pic.twitter.com/RQtv0C8JFh

— 😉DDT (@RubeshDD17) December 10, 2020