Label Of "Jayalakshmi Appalams" Which Was "Prepared By Brahmins" Created Huge Debate !!
Written by Dhiwaharan Published on Jan 29, 2022 | 18:09 PM IST | 68
Follow Us
Comments: 0
After a twitter user, handle name of whom reads as Dr. B Karthik Navayan, uploaded a picture of the front label of an "Appalam packet", a huge debate took place in the micro blogging social media site between two set of people. The label showed that the "Appalams" were prepared by Brahmins and Karthik, bio of whom says that he is a Practicing Lawyer, Ambedkarite and human rights activist, said that "Casteism" still exists in the society and people are just pretending like it went away.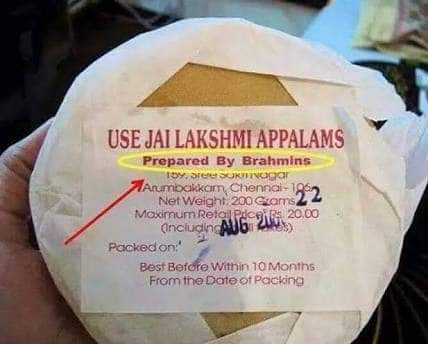 Despite of the several movements and actions are being taken against caste discrimination, caste pride and valuing people based on their caste is still being practiced by a large section of people, especially in the rural parts of the country. Karthik, in a way of venting his emotions out, came up with the post and talked about the existence of caste in the society.
"Casteism does not go away because you pretend it does not exist" capion of his post read. The picture he added show "Use Jayalakshmi Appalam, Prepared by Brahmins" in bold letters. Most importantly, company of the Jayalakshmi Appalam is located in Arumbakkam of Chennai which is evident through the label.
Check out his post below :
Casteism does not go away because you pretend it does not exist. pic.twitter.com/BAwmHeyi2Z

— Dr.B.Karthik Navayan (@Navayan) January 27, 2022
The post created huge debate among the users of twitter with a set of people arguing that the mentioning of caste in a label is no casteism but ruling that the product should only be consumed only by the people of particular caste in "Casteism". Others questioned about the mentioning of other "castes" in other products too.
"Please get your facts correct. "Prepared by Brahmins " is not caste discrimination. "Prepared only for Brahmins is caste discrimination" a follower said whereas another one wrote "Caste discrimination is what you may try to speak. Food preparation is a personal choice. Brahmin preparations ARE a brand by themselves. Specific ingredients, formula and preparation. Your criticism is going to take you nowhere."
However, there were people who called out the act of mentioning caste name in the product's label as well. Check out some of the reactions the lawyer's post garnered :
Please get your facts correct. "Prepared by Brahmins " is not caste discrimination. "Prepared only for Brahmins is caste discrimination"https://t.co/BhunGhlBpH

— Dutt (@Dutt_An) January 28, 2022
Have started reading all the labels. Don't want to end up making such people richer.

— Melvin Louis (@MelvinLouis) January 28, 2022
— I AM MODI 🇮🇳I'm What I'm 'BHARATIYA' 🇮🇳 (@ZstLiveLetLive9) January 28, 2022
Caste discrimination is what you may try to speak. Food preparation is a personal choice.
Brahmin preparations ARE a brand by themselves. Specific ingredients, formula and preparation.
Your criticism is going to take you nowhere.

— Bharat (@bharat26am) January 28, 2022
Use of caste is not castiesm or caste discrimination.
It is used to let the customers know how the taste would be. Setting sn expectation standard, Revealing the authentic taste of the product.

Much like Muslim Bhai's Biryani.

— Vignesh R 🇮🇳 (@vickygeth94) January 28, 2022
It would be nice if all Brahmins put this on their brands, I would avoid giving them business.

— #Chiranjeevi (@MegastarForever) January 28, 2022
Dalit Indian Chamber of Commerce and Industry (DICCI) is casteist?

— MiLord (@Ennamonadakuthu) January 28, 2022
You just proved yourself wrong. Why do you have different food habit? Caste.
And even if it is 'Brahmin diet' why couldn't that that same appalam have been made by an OBC or Dalit? Is there some mysterious power Brahmins making food has?

— T selvaraj (@Tselvarajtavaz1) January 28, 2022
No, but let's also not pretend that castiesm has gone away.

In 2022, please still prefer to eat food prepared by brahmins, upper caste still don't give houses to rent to lower caste, ppl still don't marry their kids outside caste.

— AkashSingh (@ByePolitics) January 28, 2022
There is difference between saying prepared without garlic or vegan food or Jain food or halal food .. from saying prepared by a community

— smileinsparrow (@smileinsparrow) January 28, 2022
Tam Brahmin cuisine has a distinct flavour like by people of all castes. This is purely for marketing. Why should that bother you? isn't there halal meat in the market? does it mean there's discrimination?

— Maya S 🇮🇳 (@balamy) January 28, 2022
No – I'm not a Brahmin and I specifically ask lot of times "I really would love to order Karela pickle made by Brahmins". It doesn't mean Casteism. It means "their" way of preparation. Get it or get lost.
Have you ever heard of "Halal" and "Kosher"? Who does Halal?

— Ram 🇮🇳 (@r_bolla) January 28, 2022
Casteism would've been if it said prepared by brahmins for brahmins. That is just stating a fact. You state your caste on your leaving certificate from school. Why get offended is someone else mentions their caste?

— Param Dane (@DaneParam) January 28, 2022
But yea can be assured of the products quality and hygiene.

— Ananya Mishra (@Vintage__Vibes_) January 28, 2022
Maybe Brahmins is considered equal to Hygiene, Honesty, Quality , by everyone who buys it ( irrespective of caste or religion).
Hence it is a message to potential buyers.

If you do not think so, do not buy it.

— Human ♥️ or RT not always = Endorsement (@Human70286217) January 28, 2022
Every community in India have their own taste & flavor! Eg Chettinad is famous for their meat, same way Tambrahms have their unique style of cooking & taste! Most of us who lack cooking skills would buy the food prepared by that group that specializes it! I will buy both of these

— L (@globalsitizn) January 28, 2022
So many dumb bigots are saying "if Halal is allowed, why not this?". Difference is Halal items don't discriminate based on birth or descent. Emphasis is on the method not on the person preparing. Actually shows how one system is inherently discriminatory and the other isn't https://t.co/9smCxLXzLI

— Aditya Menon (@AdityaMenon22) January 28, 2022