WATCH : 90s Kids Fumed After Seeing The Video Of A 61 Year Old Man Getting Married !!
Written by Dhiwaharan Published on Aug 31, 2022 | 17:16 PM IST | 152
Follow Us
Comments: 0
Men who were born between 1990 and 1996 were found fuming at a marriage video which showed a 61 year old man getting married. The incident reportedly happened in Pudhucherry and the couple are all set to return to France as the bride belongs there. Video is being widely shared in online platforms with many users who watched the video, said that they are not qualified to live in the world as they couldn't find a girl to get married.
It is not known whether the man is 57 or 61 or 75 year old as the temple authorities refused to provide details.  The man who reached Pudhucherry to meet his relatives, said that he feels lonely and would be better if he gets a partner, according to reports. He also expressed about his wish to his relatives as a result of which they started looking for a bride for him, as per the report of Polimer. 
Watch the video below :
எனக்கு கொஞ்சம் விஷம் வாங்கி கொடுங்களேன்..😔😔 pic.twitter.com/kVHWtUkISj

— கல்கி குமார் (@kalgikumaru) August 30, 2022
A 41 year old woman who lost her husband, accepted to marry the man. She is living in Pudhucherry. The marriage event took place at a "Manakkula Vinayagar" temple located at the union territory. They are planning to reach France soon, reports suggested. However, other news portals reported that the groom is 75 years old where as the bride is 28.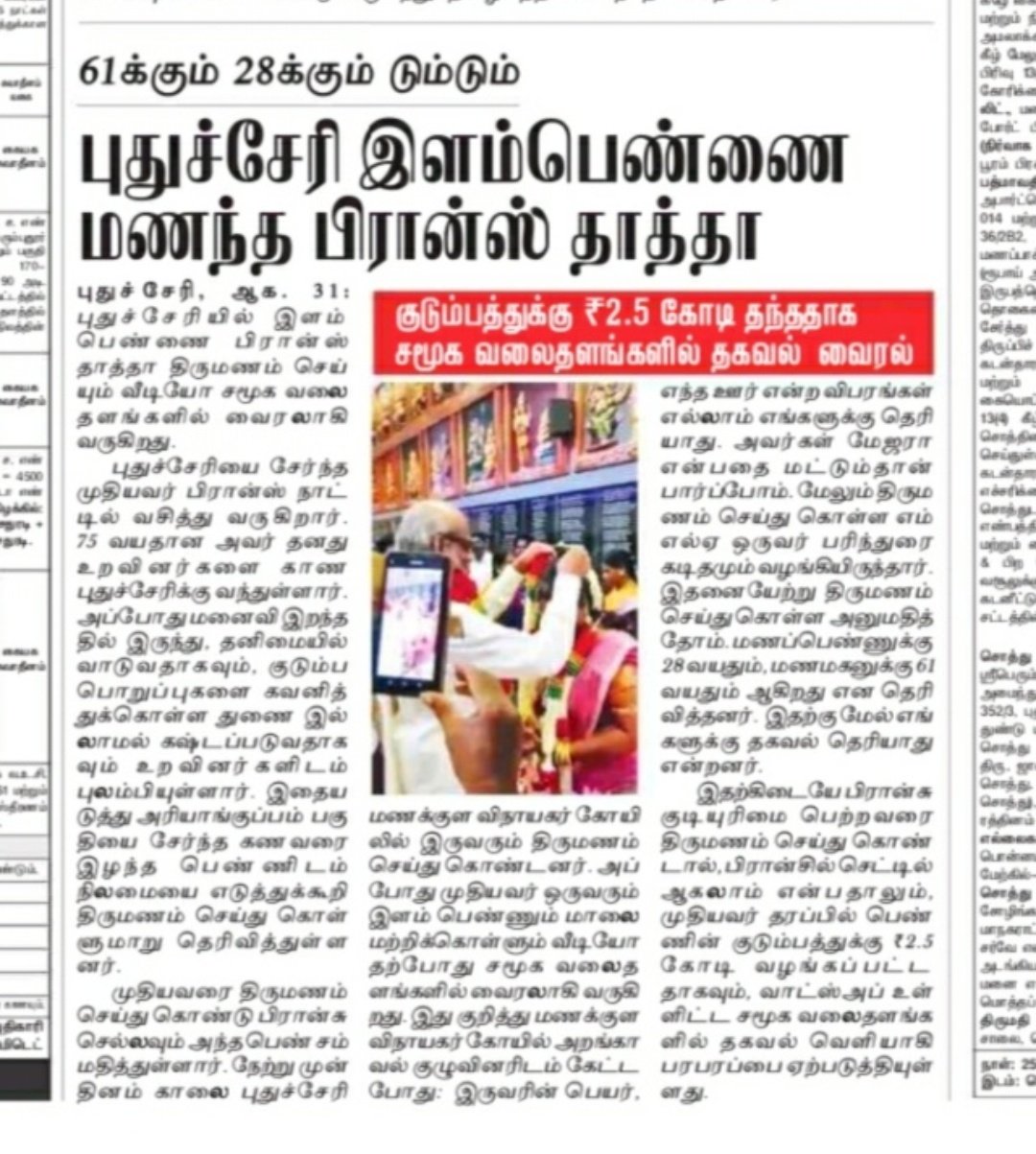 Reports also doing rounds saying that the bride provided Rs. 2.5 crore for the family of the bride. Sharing the video, a social media user said "someone help me buy a poison bottle" out of dejection whereas another one said "Age of the bride's mother and the groom must be same"
Check out some of the reactions below :
அந்த பொண்ணோட அம்மாவுக்கும் இந்த மாப்பிள்ளைக்கும் ஒரே வயசா இருக்கும்னு நினைக்கிறேன் ..ennatha சொல்ல …கிரகம் https://t.co/g5TiOE5xE0

— Dr.Siva Shankar S B.Tech.,M.Tech.,Ph.D.,(PDF) (@SivaShankarSub2) August 30, 2022
Happy married life akka and thatha ✍️ https://t.co/3uTdRuuFJU

— Akash𓃵 (@Akash_1412) August 30, 2022
#90skids_கல்யாண_பரிதாபங்கள்
என்ன கொடுமைடா இது.
அங்க சுத்தி நிக்கிற ஒருத்தனுக்கு கூடவா மனசாட்சி இல்லை.
சத்தியமா சொல்றேன் நல்லாவே இருக்கு மாட்டிங்க.
தமிழ்நாட்டில் கல்யாணம் ஆகாமல் 35000 90's kids இருக்கறப்ப 80 வயசில் 28 வயசு பொண்ணு.
நல்லா இருக்குடா உங்க யோக்கியதை.
😭😭😭😭😭😭😭 https://t.co/PZO3QmGVMq

— Senthamizh selvan (@Sentham01724686) August 30, 2022
சூப் வைக்கிற நேரத்துல
சூப்பர் பிகர்கூட வாழணும் விதியிருந்தா அதை தடுக்க எவனாலே முடியும்..

பணம் பல் இல்லேன்னாலும் பர்பி தின்ன வைக்கும் https://t.co/VKkdhVyrcU

— காந்தி #ஜெய்ஹிந்த் #இந்தியன் (@Djagannathan1) August 30, 2022
அடப் பாவிங்களா….
இதென்னங்கடா….
பெருங் கொடுமையாவுல இருக்கு.
அந்த புள்ள வேற இளிச்சுக்கிட்டு போஸ் கொடுக்குது போட்டோவுக்கு.
எனக்கு 37 வயசாவுது.
இன்னமும் கல்யாணம் ஆகல.
ஆனா.
இவ்ளோ கிழவனாக ஆன பொறவும்
இந்த கிழவனுக்கு பெண் கொடுத்துள்ளனர்
இப் பெண்ணின் பெற்றோர்.
இக் கொடுமையை என்னவென்று https://t.co/ibj3teUdtn

— iam kvk (@IRedmi9) August 30, 2022