9 Exclusive Places In Chennai That Serves The Best HALEEM !! : Must Visit On Ramzan Day !!
CM / Updated: 2016-06-28
07:10 IST
By admin
Ramzan is here and what we love about it is having the mouth watering Haleem. The classic Mughal delicacy of boiled mutton, lentils and wheat is a treat for all non-veg lovers. The very smell and flavor leaves us craving for more.
We are here to give you a list of places that serve amazing Haleem, that you wouldn't want to miss out.
1. Pista House – Royapettah


Say Ramzan and the first thing that comes to mind is Hyderabadi haleem. While Chennai sees its fair share of haleem counters spring up every Ramzan, what the foodies here
missed was the authentic Hyderabadi haleem. A spicier and rich variant is
what Pista House offers us by setting  up
shops in Chennai this year. While the eatery's haleem is made much like every
other haleem, it is Pista House's secret masala that sets it apart.
A plate of haleem is priced at Rs.150 at the Triplicane branch, it costs Rs. 160 at the Pista House outlets. The restaurant also caters to bulk orders placed in advance. 
[wp_ad_camp_1]
2. Maqs Barbecue N Biryani –
Thoraipakkam


Offering sumptuous food at affordable rates, MAQ'S Barbecue 'n Biryani was started with
the aim of offering authentic Hyderabadi dishes to  its
customers. They serve not only during the festival but on every Fridays
throughout the year. The preparation takes 6-7 hours and is cooked to
perfection.
The cost for 250ml is Rs 160. MAQ's has also recently launched their e-commerce portal – www.barbecue-n-biryani.com, through which guests can order food online and get it delivered to their door and avail a five per cent discount on online orders. 
3. Hajeeras Kitchen – Velachery
At Hajeera's Kitchen, widely raved over online, 50 to 70 litres of the stew are prepared
every day, in a process that takes between six and eight hours. On weekends
they make close to 100 litres. This is a must try place for your Haleem
cravings.
During other seasons, they serve only on prior bulk orders. Their iftar box is Rs 480 which includes haleem,fruit salad, biryani, raita, brinjal, kebab and
a sweet of the day.
4. The Fisherman's Fare – Egmore
Special cooks have been brought down from Hyderabad for the season of Ramzan. The
Haleem is simply the best in Chennai and so are the Lukhmi and samosas. The
Iftar packs are very popular – assortment of dates, samosas, lukhmi's or spring
rolls. Feast on the biryani, khubani ka meetha and other specialities this
season.
Their mutton haleem is Rs 150 for 300 ml, and their iftar box is for Rs 500 which includes dates, pakoda, chicken 65, chicken rice, mutton haleemand
a sweet of the day.
5. Rasavid – Karapakkam
They make delicious Haleem that comprises of 3 Gs – Gosht (mutton),  Ghee (clarified
butter) and Gehoon (wheat). They serve it only during Muharram
and Ramzan.
[wp_ad_camp_1]
6. Palmshore – Ashok Nagar
From samosas to laham mandi, and even chicken macaroni, Palmshore's Iftar spread sounds rather promising. It's complete with Hyderabadi haleem and Qubani ka meetha.
7. Haleem Express – Triplicane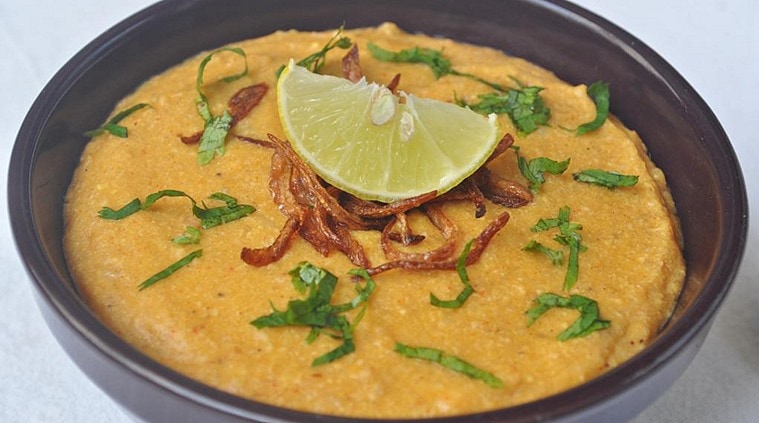 Set inside the premises of Triplicane's Walajah Mosque, Haleem Express is run by two
brothers and has been churning out popular Ramadan delicacies since 2005.
Armed with century-old recipes and fresh hand-pounded masalas, their authentic
food is to die for. Included in their combo meal is their simple yet flavourful
chicken roll, some indulgent haleem (with boneless mutton) and a classic ande
ka meetha — a rich dessert of khoya, almonds and saffron.
8. Buzz – The Gateway Hotel – Sholinganallur
Buzz, the all-day diner at The Gateway Hotel IT Expressway Chennai, is abuzz with aromas and flavours from the land of the Nizams! The exotic Hyderabadi cuisine travels
to The Gateway with a delectable spread of mouth-watering dishes.
[wp_ad_camp_1]
9. Charminar – Gopalapuram
This is another joint that offers some tasty iftar packs and mutton haleem. They also
have a party hall for large groups.