3 More Girls Including College Students Complained Against Kasi !!
Written by Dhiwaharan Published on May 09, 2020 | 00:38 AM IST | 291
Follow Us
Comments: 0
Three more girls including a 17 year old college student complained against Kasi aka Suji Demo for sexually abusing them. Reacting to these complaints, Police officers have registered another case on Kasi under POCSO (The Protection of Children from Sexual Offences) act. Previously, a Chennai doctor filed case against Kasi for sexually abusing her and for extorting money from her. A woman engineer from Nagercoil also made a complaint against Kasi for sexually abusing her and a case for collecting Usury interest in Vadachery registered against Kasi. Now, three more cases including a case under POCSO act has been registered against the accused.
[wp_ad_camp_1]
Recently police officers arrested Kasi's friend Dason Jino (19) who belongs to K.P road in Nagercoil. Police officers who discovered Kasi's hard discs and cell phones from his place, started listing the women who are linked with the accused. A young woman and a college girl from Nagercoil complained to police saying that Kasi cheated them in the name of love and sexually abused them. A similar complaint made by a 17 year old girl from Kanyakumari, result of which Police registered a case under POCSO act against Kasi.
Singer and MeToo activist Chinmayi who complained against him years before through her social media accounts has reacted to this news by saying that she and other women are filing online complaints against men who send abuse and genitalia photos by using the online platforms.
Check out her Twitter post here :
If only cyber crime could take note. So many of us warning and filing online complaints against men who send abuse and genitalia photos. More of than not this behaviour spills on to real life. pic.twitter.com/9u9xBJuIEd

— Chinmayi Sripaada (@Chinmayi) May 9, 2020
[wp_ad_camp_1]
Progress regarding the case registered against Suji demo alice Kasi is emerging in media portals in daily basis. Recently, a report suggested that Police have taken him into custody for three days and made him confess many details on how he lured women to make them fall for his tricks. In the investigation, it has been came to light that a daughter of popular film actor and a daughter of police inspector also fell prey for him.
Police have also discovered a resort belongs to Kasi in Pondicherry where he is suspected to have entertained many VIP's and politicians. Many influential personalities affiliated with powerful political parties are suspected to have a link with Kasi in extorting money from women.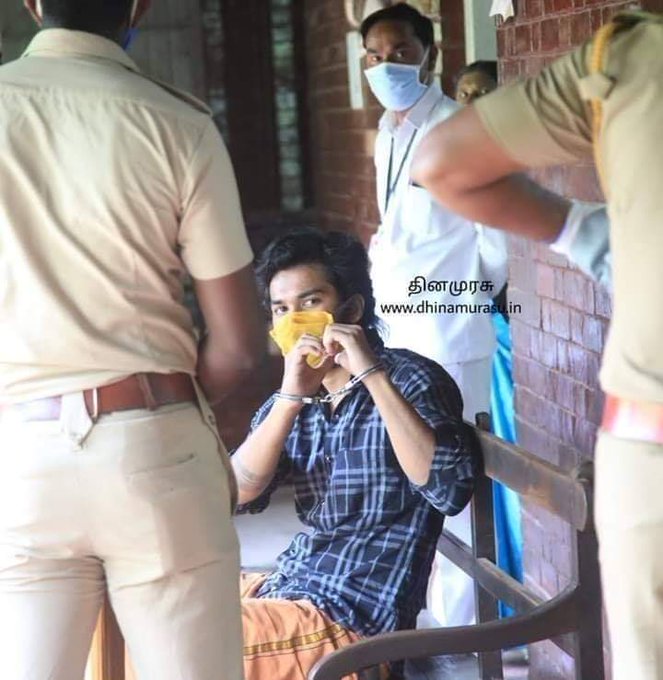 Kasi or Suji demo, A 26 year old youth from Nagercoil got arrested for betraying more than 100 girls in the name of love. He mostly targeted young doctors and medical students and reportedly shot intimate videos of them to extort money from them. Being an unemployed, Kasi alias Suji finished his college studies and extorted lakhs of rupees from women so far.
[wp_ad_camp_1]
Pretending to be a businessman or a pilot trainee or a lawyer, Kasi would approach girls through social media. He had several accounts in social media platforms such as Instagram and Facebook. After befriending with them, Kasi would send them his gym workout videos and photographs. After meeting them in person, he would take intimate videos and photographs, ofter without their knowledge. He even took screenshots of intimate video chats of women who he couldn't meet. Reports suggests that Kasi had threatened to upload their photos and videos in social media if they refuse to give money. He uploaded few of such details of the women who refused to give him money.