A twenty-four-year-old woman from Ariyalur in Tamil Nadu has committed suicide after she was scolded for spending too much time on TikTok video app. Anitha, who hailed from Perambalur, recorded a video of her drinking the pesticide. She has two children according to reports.
[wp_ad_camp_1]
According to media reports, Anitha's husband Pazhanivel did not appreciate his wife's TikTok addiction and had asked her to quit the habit. In her last video, Anitha is seen drinking a dark coloured liquid from a white bottle before breaking into hysterical cough.
TokTok, owned by Chinese firm Bytedance, claims to have over 50 million active users in India. It allows users to create short videos with special effects.
Anitha was introduced the app through a friend and soon got hooked to it. Her family members alleged she had been neglecting her children due to over dependence on the app. They informed her husband, an agri trader who had moved to Singapore a few years ago, after their attempts to keep Anitha off TikTok failed. Her relatives then reported her behaviour to her husband who scolded Anitha for being careless. He allegedly told her that he would destroy her phone.
[wp_ad_camp_1]
She was married to 29-year-old Palanivel and have a four-year-old daughter and a two-year-old son. Before committing suicide, she recorded her statement in which she asked her husband to take care of their two kids.
She was rushed to Ariyalur GH at first and later to a private hospital in Trichy, but she did not respond to treatment and died. The incident has attracted massive criticism online.
This is not the first time somebody died on TikTok.Earlier in January, a Mumbai-based 15-year-old hung her self at her residence on her birthday after her grandmother scolded her for constantly being on TikTok.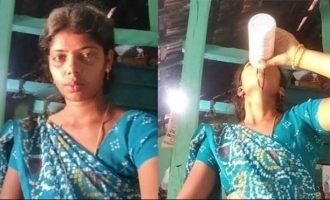 [wp_ad_camp_1]
Later in April, Salman Zakir, a 19-year-old Delhi resident was accidentally shot by his friend who was trying to make a TikTok video. On April 3, the Madras High Court had asked the Centre to ban TikTok and temporarily barred it following a petition that accused the mobile app of giving access to porn and putting children at risk. But the restriction was lifted three weeks later with certain conditions.