10 Tamil Films That Experimented Multiverse Concept Way Before "Vikram" !!
Written by Dhiwaharan Published on Jun 09, 2022 | 12:29 PM IST | 349
Follow Us
Comments: 0
Lokesh Kanagaraj, one of the happening directors of Tamil cinema, has created his own cinematic universe by linking the characters of his previous hit movie "Kaithi" with his recently released "Vikram" of Kamal Haasan. Characters of "Kaithi" such as Bejoy played by Narain, Anbu, Adaikalam played by Arjun Das and Harish Uthaman respectively appeared in "Vikram" as same characters. Usually, these kind of crossovers would take place in Hollywood films, especially under the sub genre of Superhero films. The filmmaker received positive response from the fans of Tamil cinema for his experiment which is evident through the solid performance of "Vikram" in the box office. Though Lokesh is the first creator to use the concept extensively, Tamil cinema has witnessed such cross overs in previous occasions.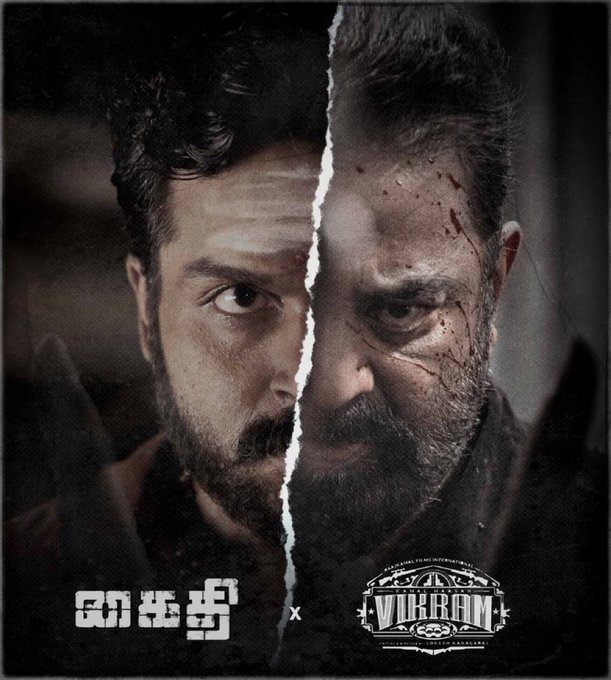 In fact, in one of the pre release interviews with film critic Baradwaj Rangan, Lokesh Kanagaraj has himself mentioned about how director Thiyagraja Kumararaja used the reference of "Oram Po" film in his debut film "Aranya Kandam". In "Oram Po" directed by Pushkar-Gayathri, Thiyagaraja worked as a writer. Now, let us have a look at some of the Tamil movies that attempted the "multiverse" concept way before "Kaithi-Vikram".
10.Padayappa- Baba
In "Baba" which was written and produced by Superstar Rajinikanth, Neelambari, an iconic character from "Padayappa" universe would appear along with her brother Suryaprakash played by Nasser in a scene.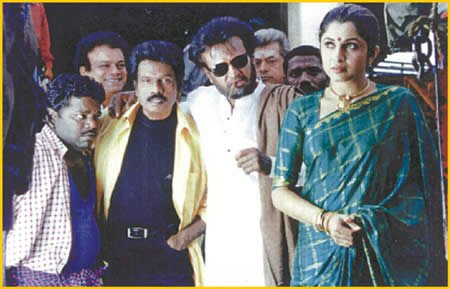 9. Maatran-Ko
Directed by cinematographer cum director K.V Anand, "Maatran" starring Suriya in dual role, had an indirect reference to his previous film "Ko" in which Ajmal would have been died in the climax. A funeral poster of Ajmal character would have been used in the background to denote that Maatran is taking place in the same universe of "Ko".
8. Idhayam – Baana Kaathadi :
Coincidentally, Late Veteran actor Murali's last on screen appearance is an extension of the role he played in the 1991 blockbuster film "Idhayam" and that too in the debut film of his son Atharvaa. The duo shared screen space for the first and final time and it turned out to be one of the most emotional crossovers in Tamil cinema ever. The actor appeared as "Idhayam Murali" in "Baana Kaathadi" and reminded fans about how regretful it is to not open about the emotions to their loved ones.
7. Athisaya Piravi- Aboorva Ragangal & others :
In this 1990 released film of Superstar Rajinikanth has the references of several other hit films of the actor himself. Right from Rajinikanth's debut film "Aboorva ragangal", the references includes some of the other films of the superstar actor in which he played the roles of drunkard and policeman.
6. Engeyum Eppothum – Masss
In "Masss" movie where the lead character played by Suriya gets a super power of being able to communicate with the dead people, Jai from "Engeyum Eppothum" universe would appear for a glance and would remind audience about the impactful role he played in the Saravanan directorial.
5. Varutha padatha Vaalibar sangam – Rajini Murugan
Bosepandi played by Sivakarthikeyan in the universe of "Varuthapadatha Vaalibar Sangam" appears in the climax of "Rajini Murugan" to put a full stop to a property issue in favour of Rajini Murugan which was also played by him.
4. Beast
The "Kili", "Mahali" comedy duo which impressed audience through director Nelson Dilipkumar's second film "Doctor" were used as the same characters in the recently release Vijay starrer as well.
3. Oram Po – Aranya Kaandam :
Before debuting as a filmmaker through "Aranya Kaadam" in the year 2010, Director Thiagaraja Kumararaja worked as a writer in "Oram Po" of Pushkar Gayathri. In his first film, the filmmaker would have used the reference of the auto rickshaws in one of the scenes. Director Lokesh Kanagaraj mentioned about it as an inspiration for the "Vikram" multiverse concept in an interview.
2. Vai Raaja Vai :
"Kokki Kumaruu" of "Pudhupettai" would have been used in this Aishwarya Rajinikanth directorial as one of the key roles. Throughout the film, there would be referrals and mentions about one "Kumaruu" and in the climax it will be revealed as "Kokki Kumaruu".
1. Manmathan – Goa
Director venkat Prabhu used the Simbu of "Manmathan" universe for the climax of his third directorial Goa to give a perfect ending for the role played by Sneha in the movie.
Now, it's your turn to comment the movies that had connections with the world of entirely different movie !!