10 Must Try Vegetarian Restaurants In Chennai !! Which Will Drag Even The Non-Vegetarians !!
CM / Updated: 2018-03-24
13:54 IST
By Dhiwaharan
The food scene in India was dominated by Indian cuisine, a few Chinese and a sprinkling of International cuisine options. The vegetarian landscape was largely the preserve of traditional chains like Saravana Bhavan or Udupi restaurants like Woodlands. That changed along with the city's evolving food scene. Our list is a clear evidence that Chennai is a heavenly destination for Vegetarian foodies too.
1. Eden
It's been twenty-five years and yet diners still have to wait for a table on most weekends. Eden was among the first vegetarian restaurants to offer an exhaustive 'Continental' (that was quite a fashionable food term back then) menu – baked dishes with generous quantities of cheese. It also complemented that with a home-style Indian menu. The formula hasn't changed and the food has remained consistent.
Second Avenue, Besant Nagar
2. Hamsa
Hamsa is a rare fine dining vegetarian venue in the city that is perfect for a romantic candle-lit meal. The décor features some elegant touches like hand embroidered wall panels and a beautiful water body. The menu is dominated by North Indian signatures but the few South Indian dishes – like the gongura annam (cooked with Sorrel leaves) on the menu make their mark. Do stay for dessert and sample the tender coconut Kheer with a litchi infusion.

 B. Ramachandra Adithanar Road, Gandhi Nagar
3.Krishna restaurant, New Woodlands hotel
The grand old daddy among Chennai's illustrious list of Udupi restaurants, Krishna stands all and consistently so. The city's Udupi restaurants set the template for the city's vegetarian scene. Woodlands continues this tradition especially during 'tiffin' time. Tiffin, in these parts, is that extended period between lunch and dinner. The restaurant rolls out Rava Idlis and Mangalore bondas along with crispy masala dosas and invigorating filter coffee.
Dr Radhakrishnan Salai, Mylapore
[wp_ad_camp_1]
4. Flower Drum
Chinese and Oriental food were among the first choice options for non-vegetarians diners. Flower Drum can take credit for changing that somewhat in Chennai. This restaurant blossomed despite parking challenges in its first outlet and now operates two restaurants in Chennai. The menu is quite exhaustive, their corn cornet (American corn dusted with flour and fried) is very popular and so are their dimsums and Thai curries.
 Prince Plaza, Pantheon Road, Egmore
[wp_ad_camp_1]
5. Royal Vega
As far as dining experiences in luxury hotels go, Royal Vega is unique at many levels. First, it's the interiors that seeks inspiration from palace architecture and can instantly morph into intimate private dining spaces. Then, it's the menu that evolves along with the six ritus (or seasons) that doesn't just incorporate seasonal ingredients but also some of the country's most exotic – like morels from Kashmir. And yes, they take their Vegetarian dining experience quite seriously – the entire crew is vegetarian.
ITC Grand Chola, Mount Road, Guindy
6. Krishna Vilasam
Krishna Vilasam is one of the newer restaurants to join the South Indian vegetarian bandwagon in Chennai. The restaurant's subtle flavours are distinct, with recipes drawn from the Tirunelveli region in Tamil Nadu that shares its borders and gastronomic influences with Southern Kerala. Their 'full meals' are a big draw, the jeera-infused rasam is one of our favourites.
First Cross Street, Kasturba Nagar, Adyar
[wp_ad_camp_1]
7. ID
What started as a novel attempt inside one of Chennai's most popular multiplexes has now become one of the city's most popular vegetarian chains. Their outlet at the Chennai Domestic airport is equally popular too. It's a fresh, contemporary take on a South Indian restaurant but most of the menu remains true to authentic recipes. There are some tweaks though, like their multiple versions of dosas that includes a scrumptious garlic dosa. The beverages are terrific too – the traditional buttermilk is a bestseller here.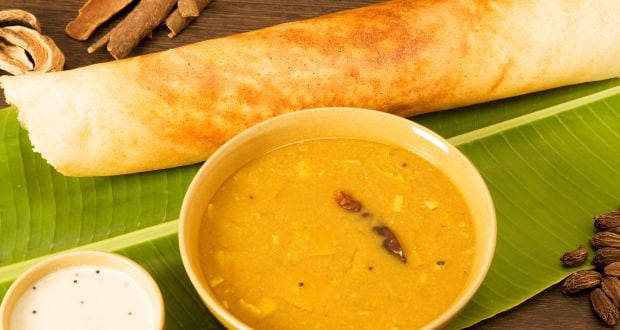 Sathyam Cinemas, Thiru Vi Ka road, Royapettah
8. Annalakshmi Restaurant
Annalakshmi is more than just a culinary experience. The restaurant's service team also includes volunteers, who are successful professionals (like accountants and engineers) by day, in their quest to make a contribution to society and the restaurant's charitable trust. Annalakshmi's global footprint includes Singapore and Australia. The restaurant has a choice of South Indian and North Indian cuisine. You can opt for their thalis or their buffets that are great value for money too.
 Rukmani Lakshmipathy Road, Egmore
9. Prive
This restaurant follows the same successful vegetarian template that has worked for chains like Cream Centre. There's a good mix of Italian, Tex Mex, Chaats and Indian cuisine plus the usual suspects in the dessert section that includes a sizzling brownie. It's the perfect venue for a family get together especially if you have family members across generations who need their fill of comfort food.
Jagadambal Colony, Mylapore
10. Pakwaan
The interiors of Pakwaan feature generous splashes of red and gold, while the service is fairly attentive. This multi-cuisine restaurant features an exhaustive menu but it's the North Indian dishes that shine. Aside from the usual paneer gravies, the restaurant doesn't shy away from experimenting – their sizzler biryani and chocolate gulab jamuns are both clever.
Kuppuswamy Street, GN Chetty road, T Nagar