10 Lesser Known Facts About India's Rocket Man Sivan That Every Tamilian Should Be Proud Of !!
Written by Dhiwaharan Published on Sep 07, 2019 | 19:35 PM IST | 71
Follow Us
Comments: 0
Prime Minister Narendra Modi on Saturday consoled Indian Space Research Organisation's Director K Sivan after his address to the scientists from the space agency's control room in Bengaluru. This came hours after the Vikram lander of Chandrayaan-2 lost communications with ISRO around 2 km above the moon's surface.
[wp_ad_camp_1]
Disheartened over Chandrayaan2 setback, ISRO chief K Sivan was left teary-eyed minutes after the Prime Minister's address. Before leaving the ISRO control centre, the prime minister shook hands with every scientist present in the room. When PM Modi met the ISRO chief, Sivan broke down. He was then comforted by the PM, who gave a pat on his back and lauded the efforts of the experts.
In this emotional moments. let us take a minute and look back at the way the Indian "Rocket" Man came through. Here are the 10 lesser known facts about Kailaasa Vadivoo Sivan.
#1
Sivan, the 62 year old rocket scientist from Tamilnadu, studied in a Tamil medium Government school in Mela Sarakkalvilai Village and later in Vallankumaranvilai in Kanyakumari district.
#2
Sivan graduated with a bachelor's degree in aeronautical engineering from Madras Institute of Technology in 1980 and became the first graduate of his family.
#3
A Shanmugavel, uncle of Sivan said that he is a self made man and never went to any tuition or coaching classes.
[wp_ad_camp_1]
#4
Sivan was born in Tarakkanvillai village in Kanyakumari district to Kailasavadivoo and Chellamall.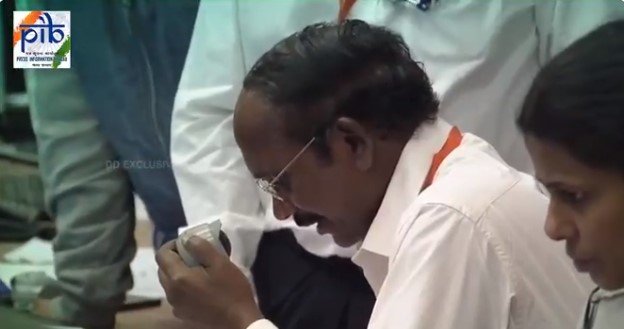 #5
In the 1980s, Sivan finally completed his bachelor's degree in aeronautical engineering from Madras Institute of Technology and later completed his masters in aerospace engineering from IISC, Bengaluru. He later completed his PhD from IIT Bombay in 2006 and also holds an honorary doctorate in science from Sathyabama University.
#6
In 1982, Sivan joined ISRO and took part in many projects including Polar satellite launch vehicle project. In that project he helped in planning designing, integration and analysis.
#7
Sivan has received various awards throughout his career, including Doctor of Science (Honoris Causa) from Sathyabama University, Chennai in April 2014 and Shri Hari Om Ashram Prerit Dr Vikram Sarabhai Research award for 1999.
#8
Apart from being the Isro chairman, Sivan was also appointed as the Secretary of Department of Space and Chair of the Space Commission.
#9
Sivan became the ninth chief of Isro in January 2018 after taking over from AS Kiran Kumar.
#10
Sivan's father Kailasavaidvoo is a farmer by profession and he was born on 14th April, 1957.
[wp_ad_camp_1]
Modi told those gathered at the ISRO communication centre to hope for the best and patted the ISRO chief Sivan once again on his back and gave the other scientists a pep-talk before he left the centre.