Tamilnadu government provided "Kalaimanani" awards for the winners of it yesterday. After a break of 8 years, the Tamil Nadu state government announced the prestigious Kalaimamani awards.  201 artists made it to the list of winners including Vijay Sethupathi, music composer Yuvan Shankar Raja, Priya Mani and many more.
#TNGovt #kalaimamaniAwards pic.twitter.com/ygxtj5KiGw

— Edappadi K Palaniswami (@CMOTamilNadu) August 14, 2019
Honouring their music achievements, singers S Janaki, sisters – C Saroja and C Lalitha and TV Gopalakrishnan were awarded MS Subbulakshmi award for their contributions in the field of music. Reportedly, 12 artists were awarded the prestigious Kalaimamani award for their acting prowess, phenomenal performance on-screen and immense dedication in their respective fields. Actors including Vijay Sethupathi, Karthi, Sasikumar, Vijay Antony, Prasanna, Santhanam, Soori, Yuvan Shankar Raja, Priya Mani, cinematographers Rathnavelu and Ravi Varman and were conferred with the award.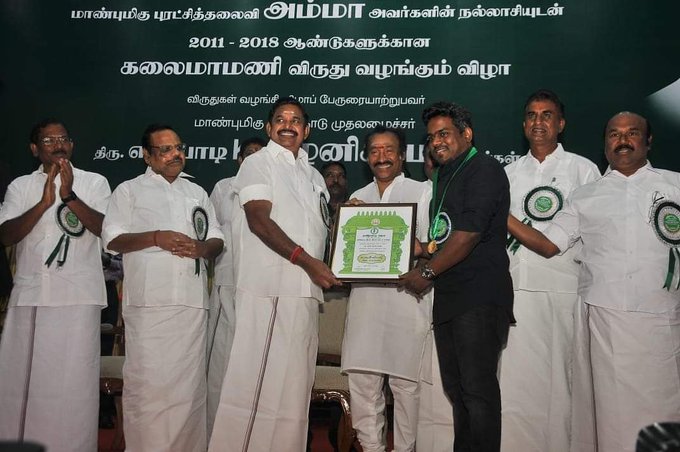 Chief Minister Edappadi K. Palaniswami presented the Kalaimamani awards to artistes for the years 2011 to 2018 on Tuesday. Netizens has been reacting to the awards received by the actors since the news got circulated in the Internet. Actor Srikanth who is known among Tamil audience for his appearance in movies like Roja Koottam, Nanban, Pambara Kannaley also received award from the Chief Minister.
Actor #Srikanth received a #KalaimamaniAward 2019 from Tamilnadu Government Congratulations #SrikanthKalaimamaniAward@Act_Srikanth @PRO_Priya pic.twitter.com/QLTlYxy8eT

— Ramesh Bala (@rameshlaus) August 13, 2019
However Netizens are questioning the award received by Actor Srikanth who was last seen in a Tamil movie "Nambiar". In the later part of his career, his films failed to achieve commercial success, which led him to venture into the Telugu and Malayalam film industries. He is credited as Sriram in Telugu films.
Check out some of their reactions here :
சௌகார்பேட்டை படம் நினைவில்லையா. காலத்தால் அழிக்கமுடியாத காவியம்.

— ☯ ATHISHA (@athisha) August 14, 2019
That Jayakumar reaction in second pic says it all..
"எதுக்கு கொடுக்குறோம்னு நமக்கும் தெரியல, எதுக்கு வாங்குறோம்னு அவனுக்கும் தெரியல"

— Jameel Ahmed Maheen (@AhmedJameelM) August 14, 2019
அன்னாரின் சாதனைகள் என்ன…

— sivachandran (@sivachandran007) August 13, 2019
Appo Vimal, Gautham karthik, Sam Anderson ku?

— V💫 (@V_I_S____) August 13, 2019
Unable to understand if the #joke is on the govt and selection panel or the actor. #KalaimamaniAward #Srikanth

— Biju Peter (@bijupeter) August 14, 2019
Then they should give this award to actor Prashant also. Atleast he was a good dancer and acted in some hit movies.

— anjoosharon (@anjoosharon) August 14, 2019
@SriReddyForU , yamma idha konjo gavani

— Raam Rv (@Raam14995918) August 13, 2019
Appo inimel avaru padathula kalaimamani srikanth nu poduvara

— ram (@inforammba) August 13, 2019
Thn @Gautham_Karthik deserves for Muthuramalingam 😂

— Ashwin Natarajan (@ashwiNatarajan) August 13, 2019
On the work front, Srikanth is expected to be seen in Hansika Modwani's 50th film Maha which has STR in guest role. What do you think on Srikanth getting the award ?? Comment your views below !!