Senior Congress leader and former Home and Finance Minister P Chidambaram, who was arrested by the CBI last night, remained quiet and hardly spoke to CBI officers and doctors who examined him. Sources privy to the developments of last night's development told India Today TV that after he was arrested by the CBI and locked-up, he barely spoke and preferred to remain quiet.
P Chidambaram was arrested by the Central Bureau of Investigation after a night of high-voltage drama that saw CBI officers climbing walls to enter Chidambaram's home. Chidambaram was arrested in the INX Media case, in which he has been accused of wrongdoing, money laundering and misuing the post of finance minister.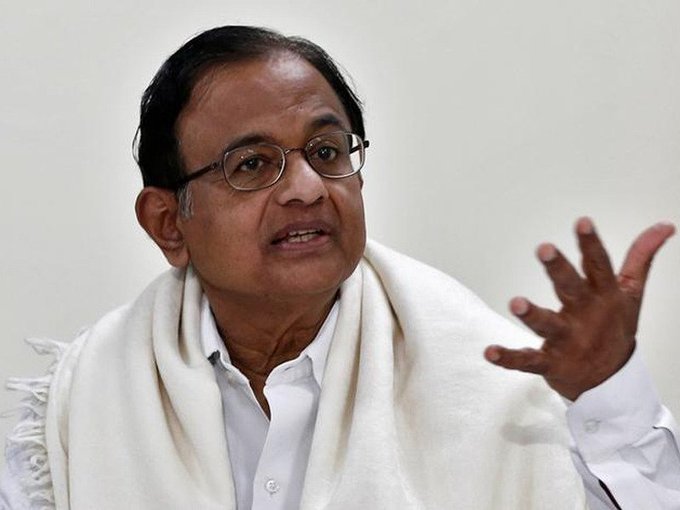 Chidambaram was formally arrested at the CBI headquarters after being taken into custody from his Jor Bagh home. He will be produced before a special CBI court (Rouse Avenue) on Thursday, where the agency will seek his remand.
"Mr P Chidambaram has been arrested in connection with INX media case," a senior official of the agency said. On seeing this tweet, Reviewer Prashanth, posted a tweet indirectly slamming the party for "Tamil Eelam Genocide".
In his tweet, Prashanth wrote, "தெய்வம் நின்று கொல்லும். ஈழத் தமிழர் கதறிய போது இங்கே அதிகார போதையில் அகங்காரமாய் சுற்றிய அத்தனை பேரையும் தெய்வம் நிச்சயம் நின்று கொல்லும்." (God will kill everyone who were in power and kept mum when Eelam Tamils screamed in pain)
தெய்வம் நின்று கொல்லும். ஈழத் தமிழர் கதறிய போது இங்கே அதிகார போதையில் அகங்காரமாய் சுற்றிய அத்தனை பேரையும் தெய்வம் நிச்சயம் நின்று கொல்லும்.

— Prashanth Rangaswamy (@itisprashanth) August 21, 2019
For this tweet, Karur MP Jothimani replied and reportedly deleted her tweet immediately. Her tweet allegedly scolded Prashanth as "Fool".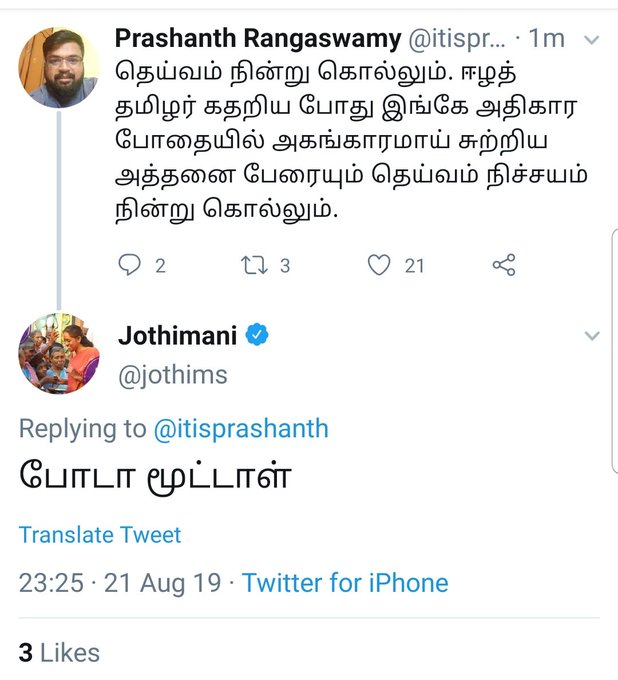 Prashanth who posted this screenshot said "இதுவரை "அக்கா" வை தவிர வேறு வார்த்தைகள் உபயோகித்ததில்லை . அழித்தாலும் சொன்னது சொன்னது தான்  @jothims அக்கா !!"
இதுவரை "அக்கா" வை தவிர வேறு வார்த்தைகள் உபயோகித்ததில்லை .

அழித்தாலும் சொன்னது சொன்னது தான் @jothims அக்கா !! pic.twitter.com/6yqjkBDHPl

— Prashanth Rangaswamy (@itisprashanth) August 21, 2019
However, Jothimani denied the allegation and said that it is fake. She said that someone who got money from BJP did it and sarcastically trolled not to do spelling mistake while writing Tamil.
சங்கப்பரிவாரங்களின் பெய்டு ட்ரோல்ஸ் சிறிது இடைவெளிக்குப் பிறகு மீண்டும் எனது Id க்களை போர்ஜரி செய்யும் பணியைத் துவங்கியிருக்கிறார்கள். பிஜேபியிடம் நிறைய பணம் இருக்கலாம் அதற்காக தமிழ் ஒழுங்காக எழுதக்கூடத் தெரியாதவர்களை பணிக்கு அமர்த்தவேண்டாமென கேட்டுக்கொள்கிறேன்! @itisprashanth pic.twitter.com/CcDAOuVwxI

— Jothimani (@jothims) August 22, 2019
Check how Prashanth replied to it :
யாரும் எதுவும் செய்யல அக்கா. இந்த ரிப்ளை நீங்கள் செய்தது. செய்து விட்டு உடனே அழித்து விட்டீர்கள். இதற்கு மற்றவர்கள் மீது பழி போட வேண்டாம். https://t.co/xUYJ3pqobk

— Prashanth Rangaswamy (@itisprashanth) August 22, 2019
After his arrest at his residence, the former minister was taken to Ram Manohar Lohia Hospital where a medical examination was done, sources said.
Chidambaram has been kept in the suit No. 5 of the CBI Guest House on the ground floor of the agency headquarters, they said.
Earlier, Chidambaram, who had not been seen in public since Tuesday evening, made a dramatic appearance at a press conference at the Congress headquarters, and asked probe agencies to "respect" the law and wait till Friday when the Supreme Court is supposed to hear his interim bail plea.